Mercosur is stalled: nobody comes knocking on the door, says Mujica
Monday, January 30th 2012 - 07:14 UTC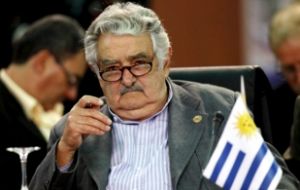 Uruguay's President José Mujica said that Mercosur bloc is "stalled" and has no natural institutional operation to push other countries to express their willingness to enter it plus lacking the fluidity of a natural relationship.
In an interview to Brazilian newspaper Folha de Sao Paulo, Mujica remarked, "In terms of trade, the Mercosur is fine because despite the difficulties, it grew. But I also see that it lacks institutional warranties", and added, "It [Mercosur] kind of works by phone calls, or thanks to the work of foreign ministries when there is a difficulty here or there."
"If nobody knocks on the door to come in, that is the best signal that we are stalled", added the Uruguayan president. "This means we don't grow because to do so there should be a very tangible vision out there that it is good business to join Mercosur".
Mercosur which last year celebrated its twentieth anniversary is made up of Argentina, Brazil, Paraguay and Uruguay, plus Venezuela in the process of incorporation although exposed to great resistance from the Paraguayan congress. Last year Ecuador formally requested to begin the membership process.
In the last summit held in Montevideo on request from Argentina it was agreed to increase the common external tariff to try and mitigate the possible impacts of the international economic crisis.
The interview was done a month ago when President Mujica travelled to Sao Paulo to meet former president Lula da Silva who is undergoing chemotherapy for throat cancer and as a guest of the Citadina foundation.
"The government of Lula da Silva was a model; it helped a lot of people climb out of misery. However between left and right there can't be much conciliation in a long term sense, It's like a permanent dispute but the dispute must not become in a confrontation that fossilizes society and that is the principal experience he left us", said Mujica.