Chavez lavish celebration of aborted coup with troops hailing the "Socialist fatherland'
Monday, February 6th 2012 - 06:55 UTC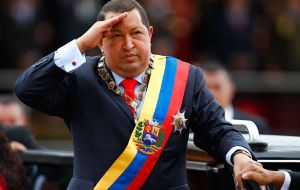 Venezuelan President Hugo Chavez mounted a lavish celebration to mark the 20th anniversary of the failed coup that helped launch his political career, as opposition leaders slammed the event as a blemish on the country's democracy.
The discord over the elaborate military parade that lionized the 1992 putsch is a reminder Venezuela remains sharply divided over his leadership in the run-up to the October 7 presidential election.
"We will not give rest to our bodies or our souls until we have freed the country from backwardness ... and built socialism of the 21st century," Chavez said, echoing an oath he took in the 1980s with other leftist military conspirators.
Helicopters and Russian-made Sukhoi fighter jets flew overhead, and soldiers carrying weapons marched while shouting, "February 4, Socialist fatherland."
The former soldier was accompanied by allied presidents, including Cuba's Raul Castro and Bolivia's Evo Morales.
The failed coup against twice elected president Carlos Andres Perez and his release two years later helped Chavez make a political name and paved the way for his 1998 election.
But his annual commemoration of the event has traditionally divided Venezuelans between supporters who say it honours the end of an era of corrupt politics and critics who call it a gratuitous celebration of violence and non democratic practices.
The country's primary opposition coalition wrote a letter to the Organization of American States denouncing the event as anti-democratic. "The promotion of a coup d'etat contradicts democracy as an end and as means because it celebrates military uprisings against constitutional order," the letter says.
Taking advantage President Perez was overseas Chavez and fellow officers staged the aborted bloody coup which caused tens of deaths among civilians and military.
Reports from the time, confirmed by several of president Perez ministers confirmed that once it was cleat that the loyal troops were controlling the situation, Chavez turned in and begged for his life. He was jailed for two years and later benefited by a 'reconciliation amnesty".