Chilean inflation on target, in spite of February's spike, says minister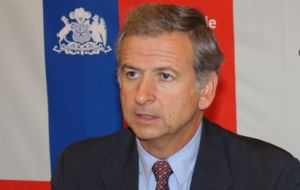 Chilean inflation accelerated in February fuelled by transport and food costs, reinforcing expectations the central bank will hold its key interest rate steady next week.

The consumer price index rose 0.4% in February, double market expectations of a 0.2% increase and well above January's slower-than-expected 0.1% rise, the country's statistics agency INE said on Thursday.

"We shouldn't draw conclusions from one month's data ...February's (inflation) data is not good news," Finance Minister Felipe Larrain told reporters, citing isolated price pressures in fruit, vegetable and fuel prices.

"Inflation in 2012 is going to be lower than what we had in 2011, and will be around the central bank's target," he added.

Chile's inflation hit 4.4% last year, well above the bank's 3% goal.

Inflation in the 12 months to February rose to 4.4%, stubbornly remaining above the 4.0% ceiling in the central bank's tolerance range for a third month.

The unexpected sharp rise in Chilean inflation fuelled the Peso to a one-week high against the dollar, as participants bet the central bank will hold rates steady next week, keeping the domestic market attractive for foreign flows.

The central bank is expected to keep the key rate on hold on March 15 at 5.0% for a second consecutive month after a surprise cut in January, the first reduction in 2-1/2 years on risks from Europe's crisis, according to a poll among economists and traders.

Recent data showing the economy is slowing less than expected amid a global slowdown had already reinforced bets the central bank will hold steady at its March 15 meeting.

Core CPI, which strips out prices for fuel, fresh fruit and vegetables, rose 0.5% in February after increasing 0.1% in January.