Monday,
March
19th
2012
- 06:37 UTC
Funds from Santiago to put Punta Arenas back on its feet, and loans to small businesses
Chilean Minister of Economy Pablo Longueira announced on Sunday that Punta Arenas in the extreme south of the country which recently suffered a barrage of flash floods will be declared "catastrophe zone".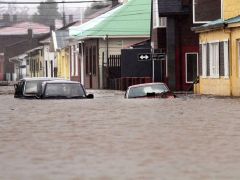 Once the decree is signed by President Sebastian Piñera and Home Secretary Rodrigo Hinzpeter, the city will have access to special funds and credits to help rebuild the city.
Longueira also announced special non refundable loans to small and medium businesses that lost all they had when the river Las Minas jumped out of course and the flash floods swept away with everything on their path.
The announced funds are in addition to the 2.5 million dollars already delivered to local Punta Arenas authorities to begin clearing roads, debris and helping re-establish bridges.
The Chilean Emergency Office, Onemi, reported that as a consequence of the strong rainfall, the worst in two decades, followed by floods 30 people remain in schools of gymnasiums and another 4.000 and 500 homes have suffered great property losses.
Surveys by local authorities showed that out of 750 homes, 410 suffered serious damage but remain inhabitable, while 90 have virtually been washed away.
Deputy Secretary for regional development Miguel Flores together with the mayor of Punta Arenas Vladimiro Mimica and Magallanes region lawmakers visited the city over the weekend to personally appreciate the magnitude of the catastrophe.
"We're here to offer all our help to the people of Punta Arenas; we've talked to local officials and we are looking for the best way to support them", said Flores adding that "we have jobs' plans to contract local labour to help with the clean up and later with reconstruction".
Flores and his delegation also promised that there will be immediate projects to better urban planning and help with the reconstruction of school buildings that suffered the full impact of the exception rainfall and floods.