Friday,
May
11th
2012
- 05:31 UTC
Chilean city of Punta Arenas will host IAATO annual meeting next year
Punta Arenas in the extreme south of Chile and one of hubs for Antarctic cruises, will be hosting the next annual meeting of the International Association of Antarctica Tour Operators, IAATO, in the first half of 2013.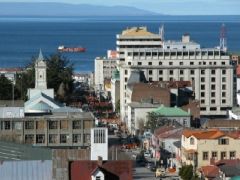 "The announcement that Chile will be hosting the next annual meeting of Antarctic tourist operators is great news and comes in the framework of the government's efforts to develop and boost responsible Antarctic tourism", said Pablo Longueira, Economy, Promotion and Tourism minister.
The decision to nominate Chile was approved at the annual meeting in Providence, where the Chilean delegation included the head of the Antarctic Desk from the Foreign Affairs ministry, Camilo Sanhueza and the Regional head of Senatur (Tourism Office) for Magallanes and Chilean Antarctica, Andrea Tellez.
"We invited members of IAATO to Punta Arenas with the purpose to have the Antarctic operators meet Chilean and regional officials linked to that field", said Camilo Sanhueza,
"As tourism promoters we feel it is most significant that we should receive 90% of Antarctic tourism operators since we are sure this will mean more challenges and possibilities for regional tourism" said Ms Tellez adding that besides IAATO, Chile will also host the Administrators of the Latam Antarctic programs.
Founded by seven private tour operators in 1991, IAATO has grown to include over 100 member companies from Argentina, Australia, Belgium, Canada, Chile, France, Germany, Italy, Japan, The Netherlands, New Zealand, Sweden, United Kingdom, and United States. IAATO is dedicated to appropriate, safe and environmentally sound private-sector travel to the Antarctic.