China opens its market to Chilean beef and lamb plus avocados and berries
Monday, May 14th 2012 - 18:29 UTC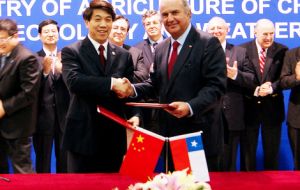 China has opened its market to Chilean meat, avocados and blueberries following the visit of Agriculture minister Luis Mayol who anticipated further discussions for the sale of live cattle and dairy produce.

"We have concentrated mainly in the access of meat, (beef and lamb) as well as berries and avocados" said Mayol after a five day visit to China which he described as "very satisfactory" in his field of action.

"I leave China very satisfied since activities have been intense but very productive", said Mayol following several interviews with his peer Han Chanfu and the AQSIQ, deputy minister for imports certification, Wei Chuanzhong.

The first shipment of Chilean berries arrived in China March 23, making Chile the second supplier of fresh fruit behind Thailand.

Mayol said that once the meats agreement is full implemented "we will be moving forward with the export of live cattle, both for dairy and beef, and horses". The minister added that Chile is also very much interested in promoting dairy sales to China. Chile dairy exports total 300 million dollars.

The Chilean official also underlined the significant collaboration with China in technologic innovation, particularly in the forestry area, "where there is much to advance and investments to consider".

The last day of his stay Mayol visited a joint Chile-China experimental farm in the province of Shanxi (southeast of Beijing) which has been running for over fifteen years "and seems to be improving every time I visit the country". This was Mayol's sixth official visit to China.

Chile was the first country to sign a free trade treaty with China in 2006, which has made the Asian giant the country's main trade partner both in volume and value. Confirming the close links Prime Minister Wen Jibao is expected to visit Chile at the end of July.

Chile-China relations are "fluid and going through a good moment" in spite of the natural obstacles for two countries with "such different magnitudes".

"China has begun to open lately and has a heavy structure, a greater administration so speeds are different, but with time procedures have become more agile and timetables are flexible", said Mayol. "So I guess we will be seeing the first shipments of Chilean meat to China in two to three months".