North Ireland leaders willing to share peace experience with Colombia lawmakers
Monday, May 28th 2012 - 07:34 UTC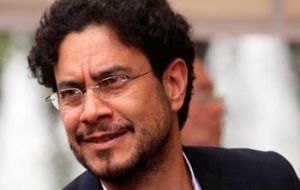 North Ireland officials are willing to share their peace forging experiences with Colombia in the event of a peace process that puts an end to the decades-long armed conflict in the South American country.
Member of congress Ivan Cepeda visited Belfast, Dublin and London together with Carlos Lozano, director of the Communist weekly La Voz and Marleny Orjuela, president from the Colombian Families of retained public forces and liberated by the guerrilla groups association, Asfamipaz.
The committee spent seven days in the UK and was sponsored by the NGO "Justice for Colombia" whose main purpose is "to learn about the peace experience in North Ireland and see which could be useful in the event of a peace process in Colombia", said Cepeda.
The Colombian lawmaker who is the spokesperson for the Peace Committee from the Colombian Lower House said that both Unionist Peter Robinson and his deputy Republican Martin McGuiness from the shared government were willing to heartedly support a peace initiative in Colombia.
However the Ulster leaders said that any help would be conditioned to whatever is the policy from the elected Colombian Executive in reference to a possible international participation in such a process.
But Cepeda did not discard that a delegation of Ulster lawmakers from all parties with representation in the regional parliament could visit Colombia in the near future.
In Dublin the Colombian delegation met with government representatives and in London they exchanged ideas with the Foreign Office and had an interview with Frances O'Grady, who is the vice-president of the Trade Unions Congress.
"They were contacts and exchange of ideas in the context of the possibility of creating the conditions for peace in Colombia. They were not considered as part of the current discussion in the Colombian congress of the legal framework for peace, but yes an overall approach as to how peace conditions are been debated in the country", added Cepeda in reference to draft legislation to be discussed this coming week.
"We believe that we must take into consideration the current scenario in which President Juan Manuel Santos has insisted on finding a political solution to the conflict as well as the fact the guerrilla group FARC, have stated something similar" underlined the Colombian lawmaker.
"It was most interesting to see how in 1998 a democratic situation was reached following a very bloody conflict in North Ireland, and the fact it was done in such a way that reconciliation is achieved in the culture of political debate".
Cepeda finally said he would be presenting a full report of his trip to the three countries to the Lower House.