Wednesday,
May
30th
2012
- 05:23 UTC
"Disturbing" Falklands-style tendencies with Gibraltar claim European MPs
Escalation in the long-running dispute between Britain and Spain over ownership of Gibraltar shows "disturbing" Falklands-style tendencies. The warning comes from one of the Rock's MEPs after a stand-off between Gibraltar and Spanish police patrol boats over fishing rights.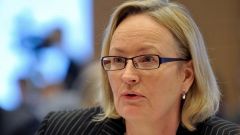 Conservative MEP Julie Girling said: "What we don't want in Gibraltar is a situation like the Falklands: there seem to be disturbing parallels in attempts to damage the livelihoods of Gibraltar's fishermen" and added "the Spanish are not being reasonable in their actions."
Gibraltar police vessels and supported by the Royal Navy intercepted a Spanish trawler fishing off the Rock on Monday. But the trawler was being shadowed by two Spanish police boats and finally left Gibraltar's fishing grounds without incident.
There were similar stand-offs last week and the issue was raised in London on Tuesday at talks between foreign secretary William Hague and his Spanish counterpart, Jose Manuel Garcia-Margallo.
Mr Hague said later in a statement: "We reiterated our joint support for a local solution to the current fishing dispute in Gibraltar.
"Clearly our views on this differ, but we both recognize the importance of establishing a dialogue between all parties. I look forward to working closely with the minister in the future."
The Foreign secretary said that London and Madrid maintained "a strong bilateral relationship", adding: "We spoke about the challenges faced by the Euro zone and the critical need for the EU to agree measures to deal with the economic crisis and encourage growth.
"We also discussed wider foreign policy issues including co-operation on Syria, Iran and Latin America."
But all high-level dealings between London and Madrid have been overshadowed by Gibraltar. Repeated challenges to British sovereignty have been rebuffed by Gibraltar's residents, who rejected the idea of Spanish rule in referendums in 1967 and 2002.
The current Spanish government under Prime Minister Mariano Rajoy stepped up pressure earlier this year in talks with David Cameron during which he demanded Gibraltar back, an invitation the British prime minister declined.
Queen Sofia of Spain then took Mr Rajoy's advice earlier this month and declined an invitation to Windsor Castle to attend a lunch to celebrate the Queen's Diamond Jubilee.
El Pais newspaper in Spain said the snub was in response to a forthcoming trip to Gibraltar by Prince Edward.
Giles Chichester, another Tory MEP whose South West euro-constituency includes Gibraltar, commented: "Gibraltar is under British rule and that is how it will stay for the foreseeable future. The Spanish are being irrational and need to get a grip. What happens in Gibraltar, frankly, is not the responsibility of the Spanish".
Fellow Tory MEP for Gibraltar Ashley Fox said he had written to the European Commission to condemn "this latest act of provocation" by Spain.
"This is simply another case of the Spanish government trying to divert public attention away from the problems with their economy. The Spanish need to accept that Gibraltar is allowed to govern its own waters.