Friday,
June
8th
2012
- 02:59 UTC
Argentine striking farmers take to the roads; government rejects negotiations
The Argentine Government warned that it has "no plans" to change the farming sector's agenda, therefore will not meet with members of the Liaison Board amid a national strike that began on Wednesday to protest against the property tax hikes in the Buenos Aires province.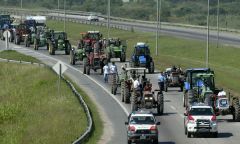 Agriculture Minister Norberto Yauhar also told farming sector leaders "that Argentina needs not to undergo moments of misunderstandings" like the ones that took place in 2008, when the Liaison Board led several grain lockouts to protest against a tax hike in soybean export duties.
"We hold sector meetings, not general ones. That is the way we work and we shall not change it," Yauhar added as he met with reporters during Argentina Journalist's Day on Thursday.
The halt in sales of grains, livestock and agricultural non-perishable products continues along Argentina, with rallies, pickets and meetings and is expected to end midnight next Tuesday
Meanwhile farmers took their tractors to the countryside roads across the country to mark the second day of a nationwide strike and halt of grain sales called to protest higher taxes in Buenos Aires province which are also used to calculate other federal levies.
Protests started on Tuesday with marches in several cities of Buenos Aires, Santa Fe, Entre Ríos and Córdoba provinces. Argentine Rural Society president Hugo Biocalti said the protests wouldn't affect the general population.
"This is to catch the government's attention and it is tailored in a way not to affect the general population", he reassured during a radio interview.