Saturday,
June
9th
2012
- 05:05 UTC
Argentine industrial activity falls 3% in April, but up 1.1% in first four months
Industrial activity in Argentina dropped 3% in April compared to the same month a year ago, with the first four months closing with 1.1% growth, although with a declining tendency according to the latest data from the Argentine Industrial Union, UIA.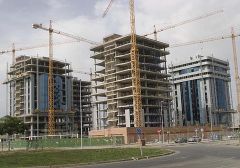 The first quarter of the year had concluded with a year on year improvement of 2.6% following on a 2.2% expansion last March, although with an evident deceleration compared to 2011 (7.1%).
The UIA report, released on Friday says that overall industrial activity continues to be "strongly heterogeneous emphasizing on the tendency of previous months".
More specifically the industrial report says that the car industry in April presented a 24.4% drop due to a strong contraction in exports (mainly to Brazil) and a relatively high comparison base in April 2011 when 72.000 cars were manufactured.
Another sector that registered negative figures was the non-metallic minerals, linked to construction, which plummeted 11.3% because of the reduction in cement deliveries and other materials, as well as inputs for that industry.
The report also stated that without the negative effect of these sectors, the industry would have grown 19% in April
At the other extreme chemicals expanded 13.4% year on year, becoming the most dynamic sector in monthly growth. And without the contribution of chemicals, the year on year contraction would have reached 5.8%.
Other sectors experienced minor variations with moderate increases for food and beverage; textiles; oil refining, and moderates decreases in printing, basic metal and metal-mechanic industries.
Overall in the first four months, the chemical industry was the most active, 11%, while the auto industry performance, which was the main force in 2011, fell 5.3%. Basic metal industries were up 1.6% and non metallic minerals contracted 2%.
Regarding foreign trade, in April, Argentine imports experienced their greatest drop in two years with a year on year contraction of 14% (4.86 billion dollars), intensifying the slide first recorded in February.
This is explained basically because of the strong contraction of those sectors with a strong component of imported input and goods.
Finally exports also declined but 6% totalling 6.7 billion dollars with the industrial sectors the most sensitive: industrial manufactured exports dropped 9% and manufacture goods of agriculture origin, fell 11%.