Monday,
June
18th
2012
- 01:12 UTC
European crisis could reduce Latin America's growth prospects by 40%
An aggravation of the European crisis could reduce growth prospects in Latin America up to 40%, said the Inter American Development bank president Luis Alberto Moreno, particularly because of the influence of European financial institutions in the influx of capital to the region.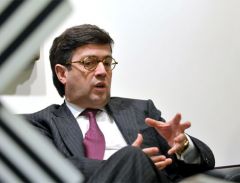 "At the bank we've done some studies looking at on one side if the European situation worsens what impact it would have for Latin America, and if the crisis effectively worsens, it could have an impact equivalent to 40% of the region's growth", said Moreno.
The IDB president said that Europe contributes almost 13% to the Latin American economy but the crisis (they are currently undergoing) could have a major impact "because of the European financial institutions role in managing a significant share of capital influx to the region".
"There is no doubt that the main risk for Latin America currently comes from outside the region and is quite different to what was happening in the rest of the world. We represent something like 9% of the world economy and we contribute with 12% to the growth of the world economy. In other words nowadays Latin America is part of the solution to the current crisis", underlined Moreno.
"International turbulences are having their impact in our region's growth and that was revealed by the latest data from the World Bank"
The World Bank growth estimate for Latin America in 2012, was downed to 3.5%, while a year ago, last October the estimate was 4%, indicated the IDB president.
Moreno supported his statement saying that it was enough to look at the Spanish Santander bank branch in Brazil performance to understand the significance.
"Santander Spain receives 25% of its earnings from Brazil and if you look at the stock exchange value of Santander Brazil, it is higher than that of the Deutsche Bank. Spanish corporations every morning wake up and thank God for having invested in Latin America", given the extremely serious situation European countries are suffering.
However Moreno also underlined that the European crisis is having its toll for Latin American growth, and forecasted that following the current situation, the influx of investment capital will begin to reverse, "from North to South, to "South to North".