Monday,
June
25th
2012
- 18:56 UTC
Urgent summit in Peru to advance transfer of Unasur presidency from Paraguay
An urgent summit of the Union of South American Nations, Unasur, will address the crisis in Paraguay following the removal of President Fernando Lugo, this coming Wednesday in Peru, announced Ecuadorian president Rafael Correa, although there has been no official confirmation from Lima.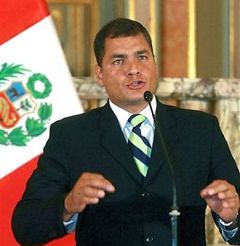 According to President Correa and his Foreign Minister Ricardo Patiño, the meeting was convened by Peruvian president Ollanta Humala since the rotating presidency which currently rests with Paraguay has to be passed on to Peru.
"I think we have been convened for next Wednesday in Peru and Ecuador will propose that the democratic clause be applied to Paraguay, we can't tolerate this kind of hoax disguised in legality", said President Correa in a Sunday interview. "Legal procedures have been violated to remove Fernando Lugo from his presidential post".
Foreign minister Patiño said that "we have been called by President Ollanta Humala for next Wednesday because it's Peru's turn at the presidency of Unasur". He added the transfer will be advanced (originally in the second half of 2012) since the Unasur presidency "cannot be in the hands of an illegitimate government".
Patiño described events in Paraguay as a "parliamentary coup" and therefore the Ecuadorean government will not recognize the current president Federico Franco.
"It's a disguised coup; it's shameful for Latin America that following a long process of democratic consolidation, a presidential term comes to an end in this way. The government is illegitimate and we will not recognize it".