Thursday,
June
28th
2012
- 08:14 UTC
CFK called on all Argentines to unite in defending the model started in 2003
Argentine president Cristina Fernandez said on Wednesday that in an uncertain global scenario the priority of her administration was to ensure jobs and called on all sectors to unite in the defence of the political and economic model implemented since 2003.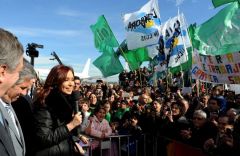 "We need all Argentines to be united, organized, and with solidarity to defend this model which does not belong to one sector or a party, but to all of us", said the Argentine leader on Wednesday during an official ceremony in the province of San Luis.
"All is so interconnected in the modern world that we can't separate the route of Argentina from the rest of the countries", she added. "You don't have to be very intelligent to realize that if the main trade partners of the world are having trouble, we have to ensure jobs by implementing counter cyclical policies, those which have been the great merit of this model and are now copied world wide".

"Money must circulate moving goods and services' circuits to generate value and wealth", said Cristina Fernandez underlining that "having jobs is the great social and family organizer, furthermore without jobs there are no social organizers, and that is what we want to defend most to keep growing and we are going to defend this policy with all weapons available".
The president went on to argue that "we have always worked for equality and building and I believe we have been able to bring together two great values for any society: freedom and equality. The two are necessary, you can't think about equality without freedom".
The goal of this administration is for each Argentine "to choose the life he wants to have and not be condemned because he was born in a humble home or had no possibilities".
On arriving at the province of San Luis, which she hadn't visited since 2007 (it is under control of a dissident family from the ruling coalition), the President said that "we need to be united and working because there are many things to achieve still" and insisted the country must continue to grow in harmony and in peace.
"To all the men and women of San Luis and the country, we need you united and working, much is still needed to be done, and this we must achieve united and with solidarity".
"Much has been achieved in these nine years and we will continue to work with the same strength and conviction we did when we started this process on 25 May 2003", said Cristina Fernandez.
"We have come to open a pork processing plant, a model plant financed by the federal Ministry of Agriculture because when investing, for the federal government all provinces are equal and are part of the same country, a country which belongs to 40 million Argentines".
The speech and the opening of the plant was followed on national television and most private channels and once finished, the political rally in Buenos Aires took off.
The chief of organized labour Hugo Moyano actually waited for Cristina Fernandez to finish the ceremony before starting his speech which in spite of the politeness, further distancing the unionized workers movement from the current administration.