Paraguay manufacturers support the country's expulsion from Mercosur
Thursday, June 28th 2012 - 07:37 UTC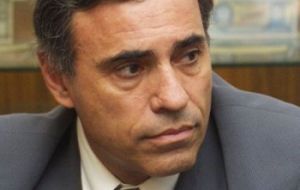 Paraguay's head of the Industrial Union Eduardo Felippo said that he's supportive of the possibility that the country is excluded from Mercosur, adding that "the rest of the members are going to lose more money than us"

Interviewed by ABC Color, Asunción main daily, Felippo said on Wednesday that he had met with fellow industrialists and started working with numbers, and we agreed that "getting out of Mercosur is going to benefit us greatly".

In the event of Paraguay been excluded from the regional block "it won't be for us a problem" but he also said he believed "Mercosur won't sanction us". The diplomatic process must continue and "we will overcome".

"Outside of Mercosur we will have greater options. We are going to develop our muscle to export to other countries, we are going to ensure that our trade partners in the future will be other countries, other continents and not our neighbours which whether we like it or not, were part of the Triple Alliance", said Filippo in clear reference to Argentina, Brazil and Uruguay and a war in the mid 1800s., which decimated the Paraguayan population.

Starting on Thursday and including Friday Mercosur leaders will be discussing in Mendoza, Argentina the possibility of excluding Paraguay from the regional block in protest over the removal of former president Fernando Lugo and his replacement by Federico Franco following an overwhelming political impeachment.

Paraguay and to a great extent Uruguay, have been particularly critical of some of Mercosur decisions which they complain has become a two-member club, Brazil and Argentina, which in many cases solemnly ignore the junior members or forget to consult them.

For example had it not been for the Paraguayan situation this Mercosur summit was going to decide the increase of the common external tariff to the maximum allowed by the World Trade Organization (35% for some cases) which Uruguay and Paraguay, as small countries which need open economies, strongly rejected.
However Argentina and Brazil have been acting as if the issue had already been approved.