Wednesday,
July
11th
2012
- 07:17 UTC
Defence of Argentine sovereignty over Malvinas has become "a regional issue"
The Argentine ambassador in London Alicia Castro said that South America has reached such a degree of unity that it is possible to think "on the defence of Argentine sovereignty over the Malvinas in regional terms".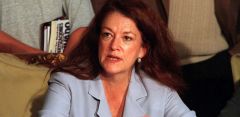 Ms Castro said that "Jose de San Martin and Simon Bolivar conceived the well being of our peoples based on two correlated achievements: independence and unity. Once achieved the first from the Spanish empire, the concept of unity vanished".
The ambassador's speech was in commemoration of Argentina's Independence Day, Monday July 9 during the annual reception at the embassy with over 600 guests including Argentines living in the UK, diplomats and members of the Foreign Office.
"Currently in South America things have changed: we celebrate together, and as our President Cristina Fernandez likes to say "we are celebrating a second independence".
And more specifically issues such as "our defence of Argentine sovereignty over the Malvinas Islands is done in regional terms". She added South America is increasingly aware of "the significance of territorial integrity, control over natural resources and sovereignty"
Ambassador Castro added that "the region is capable of recovering economic protagonism in a world in crisis, capable of sharing cultural values and above all capable of generating a constructive dialogue among all nations to promote a multi-polar world order"
In another passage of her speech the ambassador expressed "consternation at the rupture of democratic order" in Paraguay with the removal from office of former president Fernando Lugo and replacement by his former Vice president Federico Lugo.
The ambassador also celebrated the incorporation of Venezuela to Mercosur and recalled that in 2006 the Argentine congress approved the project promoting the admission of Venezuela. Ms Castro before London was ambassador in Venezuela and a close friend of President Hugo Chavez.
The ceremony in the embassy started with the national hymn and was followed by a display of tango by some of the Argentine residents in London.