Wednesday,
July
18th
2012
- 07:41 UTC
Spain, Argentina and Brazil the strongest football tournaments in the world
Argentina's First Division is second strongest tournament in the world after Spain, according to the International Federation of Football History & Statistics (IFFHS) July release.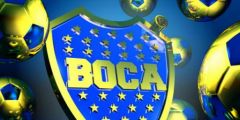 During the first half of 2012, Spain's La Liga accumulated a record number of points (761) and leads with 148 points ahead of Argentina. The Spanish league headed with 94 points on July 2010, and with 143 during the same period in 2011.
"The Spanish First Division is by some margin the strongest league of the world," the IFFHS continues.
The organization stated that "as in previous years, the two strongest South American leagues in the month of July are again in 2nd and 3rd place in the world ranking, and the Argentine Primera División is again placed ahead of the Brazilian Série A."
Meanwhile, the English Premier League retreated in the last three years and currently is at the same level as the Italian Serie A and Germany's Bundesliga.
"It is completely open which of these three leagues will be the second-strongest European league at the end of the year," IFFHS stated.
Regarding the Portuguese league, it is once again at the level of previous years, while the Chilean First Division has become stronger and ended up ahead of the French league.
The Mexican Primera División's domination in the CONCACAF area (11th place of the world) remains unchallenged. Although the positive development of the MLS of recent years has not continued into 2012, the US league is ahead of those from Guatemala, El Salvador and Costa Rica, the second-strongest in this region.
The Korean league continues, impressively, to be the strongest Asian league (12th place of the world!), ahead of the league from Saudi Arabia, which has improved continuously in recent years. The Iranian league surpassed the Japan-League for the first time and is at present Asia's third-strongest league. After Japan there follow the leagues from Kuwait, Malaysia, Australia and, unexpectedly, the UAE.
The top 21 ranking: Spain; Argentina; Brazil; England; Italy; Germany; Chile; Paraguay; France; Nederland; Mexico; Korea; Greece; Ecuador; Saudi Arabia; Turkey; Colombia; Iran; Uruguay; Portugal and Japan.