Thursday,
July
19th
2012
- 18:14 UTC
Police and Civil Guard members join massive spontaneous protests in Spain
The protest movement against the conservative Spanish government's latest austerity measures swelled on Thursday as public sector workers stepped up demonstrations in Madrid and around the country after more than a week of spontaneous action.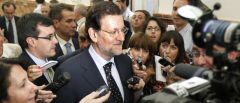 With parliament, besieged for the last week, voting on a package of 65 billion Euros of spending cuts and tax hikes, civil servants stopped traffic and invaded ministries ahead of marches called by trade unions in more than 80 cities on Thursday evening.
The sight of protesters on Spain's streets is nothing new. Young "Indignados" (Indignants) protested in their thousands against mass unemployment last year.
But since Prime Minister Mariano Rajoy announced the austerity steps last week there have been daily demonstrations drawing groups that have previously stayed away.
On Thursday, policemen and members of the Civil Guard took the unusual step of joining the protests.
Civil servants, whose pay was cut by between 3.5 and 7% when their Christmas bonus was cancelled, have used their daily coffee break this week to protest outside the ruling People's Party (PP) headquarters in Madrid, often shouting "Hands up! This is a stick-up!"
While anti-government protests are not unusual under conservative governments in Spain because the PP is seen to side with employers rather than trade unions, public workers had accepted several cuts or freezes in they salary over the last three years with a sense of resignation.
But the latest round of belt-tightening has spurred widespread anger.
"It has gone beyond an ideological issue... and it's moved beyond the traditional groups that demonstrate. We have seen even the military threatening a demonstration," said Ramon Pacheco, a lecturer in Spanish politics at Kings College London.
Rajoy announced the cuts as thousands of miners and supporters, some of whom had marched hundreds of kilometres from northern Spain to protest a reduction in coal subsidies, staged a rally that ended with police firing rubber bullets and making arrests.
Civil servants poured out of their offices to block Madrid's main arteries following Rajoy's announcement and have protested without fail every day since, organizing action through emails and by co-ordinating at work without any clear leaders.
The cabinet was expected to approve on Thursday a parliamentary motion categorizing "urban violence" as a specific crime, which could empower police to detain suspects preventively before being charged with the offence.
The government is also looking at ways to curb the organization of protests that disrupt public order.
The spontaneous protests now taking place recall the 2004 demonstrations, though the profile of the protesters has changed to extend from young people to middle-aged workers.