Saturday,
July
21st
2012
- 07:17 UTC
YPF building credibility buys back 79 million dollars in 2028 bonds
Argentina's nationalized oil and gas company YPF said on Friday it had bought back 79 million dollars in 2028 bonds that it was obliged to repurchase in the case of a state takeover.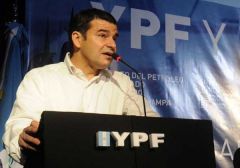 YPF, Argentina's biggest oil company, was nationalized by the government in May when it seized a 51% controlling stake from Spain's Repsol. This activated a contract clause requiring the buy-back of YPFs sole outstanding bond, which had a face value of 100 million and carried a 10% coupon.
"Just as it was originally thought out in the sale of this benchmark 30-year bond, YPF abided by the contract in order to protect investors," YPF said in a statement on Friday.
Holders of 21 million in the bond did not participate in the buy back, said a YPF source with knowledge of the situation.
YPF is sounding out banks about a possible new issue of global bonds as it looks to fund an ambitious investment plan to revive flagging production.
President Cristina Fernandez seized control of YPF from Repsol, accusing the Spanish oil major of investing too little and making the country increasingly reliant on pricey imports.
Chief Executive Officer Miguel Galuccio, a former executive at global oilfield services giant Schlumberger, said YPF plans to reverse the nation's energy deficit would require an annual investment of 7 billion dollars from 2013 through 2017.