Tuesday,
July
24th
2012
- 15:27 UTC
UK reaffirms sovereignty over Gibraltar territorial waters following incident with the Guardia Civil
The UK reaffirmed sovereignty over Gibraltar and Gibraltar territorial waters following an incident with the Spanish Guardia Civil which detained two Gibraltar British Nationals in British jurisdiction and transferred them to Spain.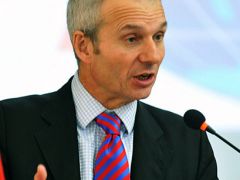 Foreign Office Minister for Europe David Lidington said he is "shocked by the disgraceful behaviour of the Spanish Guardia Civil," following the reports of the two hour detention of a Gibraltar boat.
"The (UK) Government will be making it clear to Spain that such action, on the part of the law enforcement agencies of a EU Partner and NATO Ally, is intolerable and unlawful", said the Foreign Office official.
"The British Government remains confident of our Sovereignty of Gibraltar and British Gibraltar Territorial Waters. Our position is clear. The UK will never enter into arrangements under which the people of Gibraltar would pass under the sovereignty of another State against their wishes. Furthermore, the UK will not enter into a process of sovereignty negotiations with which Gibraltar is not content."
A Foreign Office statement said: "At around 2330 local time on Friday night the Spanish Guardia Civil intercepted a local Gibraltarian sports fishing boat approximately 200 meters off the coast of Gibraltar. The two Gibraltarian British Nationals were detained and transferred to Algeciras in Spain. The British Nationals and their boat were released without charge at approximately 0200 – although some fishing equipment was held in Spain.
"This action comes in the context of an ongoing disagreement between the Gibraltarian authorities and a group of local Spanish fishermen who want to fish in BGTW in contravention of Gibraltarian law. Throughout this period British and Gibraltarian agencies have sought to respond in a calm and professional manner and the Chief Minister has instituted talks between the Gibraltarian authorities and the fishermen to work to resolve the situation. There has been no arrest or detention of any Spanish national or Spanish boat. The actions of the Guardia Civil in detaining Gibraltarian British Nationals in British Gibraltar Territorial Waters are a provocative escalation and contrary to international law".