Wednesday,
August
1st
2012
- 01:24 UTC
Uruguay and Brazil sign wide ranging accord to promote trade and political links
Uruguayan president Jose Mujica and his peer Dilma Rousseff signed in Brasilia a bilateral agreement to promote the free circulation of goods and services and the strengthening of political and trade links between the two countries.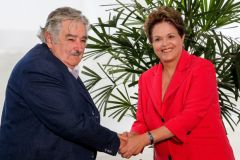 The accord stamped on Tuesday on the side lines of the extraordinary summit for the incorporation of Venezuela as full member of Mercosur, had been ready since the June Rio+20 environment summit held in Rio do Janeiro, but had to be delayed because of the political situation in Paraguay.
Mujica travelled to Brasilia with his Foreign minister Luis Almagro, Industry and Energy minister Roberto Kreimerman and the Presidency deputy secretary Diego Canepa.
The agreement also effectively confirms the 1991 Mercosur founding treaty of Asunción which ensures the free movement of goods and services but that has been lately eroded because of the market protection measures imposed mainly by Argentina but also Brazil.
The two countries also agreed to name a high level group, with members from both Executives and Foreign ministries with the purpose to create an action plan with concrete targets and assessment spaces.
The areas that are included in the agreement are: productive integration, science, technology and innovation, communication and information, integration of transport infrastructure, free circulation of goods and services, free circulation of peoples and energy integration.
Brazil is Uruguay's main trade partner and has significant investments in several of the country's industries, plus agriculture, banking and oil exploration. With over half of its power hydro and with climate change Uruguay has become energy vulnerable and at times needs to connect with Brazil and Argentina.
A project to buy Paraguayan power, a country with abundant surplus because of the huge dams it shares with Brazil, Itaipu (the world's largest operational) and Argentina, Yaciretá, was unable to prosper because of the toll Argentina wanted to charge for the high tension lines crossing its territory.
President Mujica's move is seen as an attempt to take distance from Argentina and President Cristina Fernandez, a relation full of promises but little achievements and side with Brazil that seems to be more open and direct to Uruguay's requests.