Thursday,
August
2nd
2012
- 06:53 UTC
Brazilian government to the rescue of pork farmers; excess production
The Brazilian government will spend 30.4 million Reais (15.05 million dollars) to buy 76,000 metric tons of excess live swine, through a minimum-price plan created to help Brazilian producers get out from under a national oversupply of pork, the Ministry of Agriculture announced.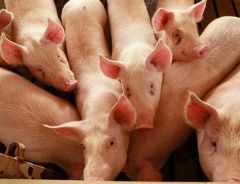 The temporary aid program will pay producers 0.40 Real per kilogram, and aims to help pork producing regions resume their traditional product flow and cover basic production costs, the government said via press release.
About 76.000 tons of live swine, or 50.000 animals, should be moved through the program.
"With this action, developed after negotiations with the (pork) production sector, we believe that the government has done its part in full, and within what was realistically possible," said Mendes Ribeiro Filho, agriculture minister.
"The expectation is that the situation will be eased and producers can cover production costs, since we are guaranteeing income for farmers in this difficult moment."
This pork buyback program follows more than a week of negotiations in Brasilia between pork industry leaders and public officials, protest marches in the capital by swine farmers and processors, and other financing aid programs set up for the pork industry.
A special credit line of 200 million Reais (98.98 million dollars) with low interest rates was announced for producers on July 12.
Available for the rest of this year, it features a fixed rate of 5.5%, and producers can extend their pre-2012 debt for one year at that rate.
A separate line of credit for matrices retention by independent pork producers, established under a 2012/13 stimulus plan for agriculture and livestock on June 28, will only be increased if there's major demand.
Industry leaders spoke with Ministry of Agriculture officials and senators last week on the high production costs they're facing from elevated corn and soy prices, and the meat oversupply that has occurred from months of Russian and Argentine trade embargoes.
A lack of frozen meat storage options in Brazil has exacerbated the problem, producers said. Producers claim they're currently earning 1.60 Real per kilo for pork, on average, while their production costs average 2.50 Real, difference of around 44 US cents. (Argentine Beef Packers SA)