Thursday,
August
2nd
2012
- 07:31 UTC
YPF after Chinese cooperation for development of Vaca Muerta shale deposits
Federal Planning Minister Julio de Vido announced that several members of the Argentine Government would be flying to China in September in order to close several cooperation agreements between Chinese oil companies and YPF, intended to deepen the bilateral relations.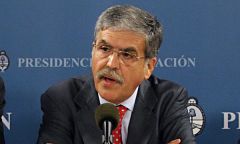 De Vido said that "surely next month" he would be flying to China along with the YPF CEO Miguel Galuccio and Deputy Economy Minister Axel Kicillof.
The meeting is conducted "in order to continue with the process began during the visit of the Chinese prime minister Wen Jiabao," who last month met with President Cristina Fernández.
De Video made the announcement in the Foreign Ministry building, where he was meeting with Foreign Minister Héctor Timerman and the vice-president of the Chinese National Committee of Development and Reform, Zhang Xiaoquinag.
The Chinese top official and his delegation later met with CEO Galuccio to begin talks on potential agreements for the exploitation of oil and gas resources in Argentina.
"The officials considered the importance of advancing in consolidating the enormous potential of YPF shale oil and gas reserves in the Vaca Muerta basin which extends for 30.000 square kilometres in the provinces of Neuquén and Mendoza.
CEP Galuccio also received a Venezuelan delegation headed by Rafael Ramirez, who is president of the country's largest oil corporation, PDVSA, and also Energy and Petroleum minister.
"Following the presentation of the assets from both companies that potentially could be integrated, it was understood that since they are assets of world magnitude, their development needs of complex engineering studies and advanced technology, such as those currently applied to the heavy crude of the Orinoco belt in Venezuela and the shale in Vaca Muerta".
A report from the US Energy Department has Argentina figuring in third place behind the US and China out of a list of 32 countries, regarding reserves of non conventional hydrocarbon resources.
On Tuesday in Brasilia Presidents Cristina Fernandez and Hugo Chavez announced a strategic agreement for the incorporation of YPF to the exploitation of the heavy crude in the Orinoco belt, the enormous reserve that also includes shale oil.
Nationalized YPF is the leading oil hydrocarbons corporation in Argentina and has a 54% control over the fuels' and refining market.