Friday,
August
3rd
2012
- 07:24 UTC
Colombian court ruling favours indigenous people; government to appeal
Colombian Defence minister said on Thursday the Constitutional Court's decision to order armed forces to leave indigenous territories in south-eastern Colombia will not affect military presence in the volatile south-western Cauca department.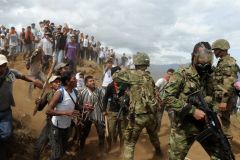 "We respect the decisions of the court and we abide by them, although we will [ask] the court to revise the terms and issues" said Juan Carlos Pinzón.
The minister pointed out that the decision "did not set a precedent" for the armed forces to do the same in Cauca, where indigenous movements have demanded the exit of armed forces and left-wing guerrillas alike.
On Thursday morning, the court ruled military bases located in "ancestral indigenous territory" in the south-eastern Meta and Guaviare departments "violated the fundamental rights of its peoples". Specifically, it ruled that armed conflict and displacement threatened to endanger the continued existence of the communities.
"The Jiw and Nukak indigenous groups are in grave danger of being physically and culturally exterminated due to the internal armed conflict and the failure of the authorities to give them adequate protection".
The court said that three indigenous people had been injured by unexploded ammunition and landmines around the training base in Barrancon.
Luis Evelio Andrade, a representative of the Indigenous Organization of Colombia, told newspaper El Tiempo the court decision was a "special situation" that could not be "generalized or applied to other parts of the national territory," while asking the Defence minister to continue the dialogue with indigenous organizations in matters of security.
The ruling comes just weeks after the security forces clashed with members of another indigenous group in south-western Colombia over demands that the army leave their land.
The Cauca, Meta and Guaviare departments have long been highly affected by fighting between government forces, left-wing rebel groups and paramilitaries
According to the Colombian Institute of Rural Development the training base and its 19 buildings occupy about six hectares of indigenous land. The base is used to train members of the Navy and the Special Forces.
Commander of the Armed Forces Gen Alejandro Navas said the military should not be seen as an invading force. "We're fulfilling our constitutional duty of ensuring the security of Colombia," he said.