Monday,
August
13th
2012
- 05:55 UTC
Santiago sacks Mayor of Magallanes region for alleged irregularities
Chile's Presidency secretary Andrés Chadwick confirmed that the former Mayor from Magallanes Region in the extreme south of the country, Arturo Storaker had effectively resigned because of alleged irregularities during his performance.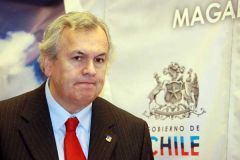 "The mayor of Magallanes was requested to present his resignation, and he did so immediately. There were some situations under investigation both by the National Auditing Office and by the Attorney General's office and the Punta Arenas prosecution department", said Chadwick.
He added that the government of President Sebastian Piñera did not believe "it was compatible for Mr. Storaker to continue as mayor, when he had to organize his defence regarding situations that under scrutiny by the Auditing Office and the prosecution".
Soraker has been accused of alleged lack of transparency in contracting the company Rayen which was to clean the streets and culverts of Punta Arenas following the flash floods from the river Las Minas that covered the city as well as "problems" regarding contracts at the Free Zone.
The former mayor presented his resignation last week after fourteen months in the post.
Storaker will be replaced temporarily by Gloria Vilicic, governor of Punta Arenas, until the central government in Santiago names a definitive mayor.
Storaked took office 24 April 2011 to replace former mayor Liliana Kusanovic who was forced to resign following the massive protests from Punta Arenas residents because of the surprise increase in the price of heating gas in January that year.