Tuesday,
August
28th
2012
- 03:27 UTC
"The Islands" inspired in the Falklands, a novel about Argentine lost dreams
A novel 'The Islands' inspired by the Falkland Islands War and written by Argentine author Carlos Gamerro has been published in English.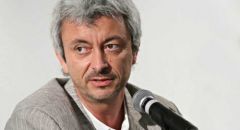 According to arts writer Charlotte Higgins for the Edinburgh Book Festival, the book first released in 1998 and then transformed into a stage play in 2011, "aside from being the work of one of Argentina's most significant novelists, the fascination of the book, on both sides of the Atlantic, is its singular vision of an event that continues to vibrate unsettlingly in the recent history of both nations."
For Argentina, said Gamerro, the Falklands have, "come to represent nationalism, anti-imperialism anti-colonialism: they represent all the aspirations we couldn't fulfil; they have become a kind of icon of Argentine lost dreams or pipe dreams."
In his novel, a veteran of the Malvinas war, a computer hacker called Felipe Félix, sets out to destroy the records of the witnesses to a crime, which he manages by distracting an intelligence officer with a computer game that endlessly replays the Falklands war as an Argentine victory: a kind of counterfactual playing out of, "those lost pipe dreams," said Higgins.
The game offers a further metaphor too: for Gamerro, it conveys something of how the war was experienced in Argentina through contemporary news reports.
"We were winning, winning, winning… and then suddenly we lost".