Saturday,
September
8th
2012
- 05:26 UTC
Bolivia will formally request Mercosur full membership in 2013
Bolivia will begin the coming year formal talks for full membership of Mercosur, for which it has the support from Uruguay, said diplomatic sources from both countries, Bolivian Deputy Foreign minister Juan Carlos Alurralde met with his Uruguayan counterpart Roberto Conde in the framework of the "Bolivia-Uruguay coordination and consultation mechanism" sixth meeting in La Paz.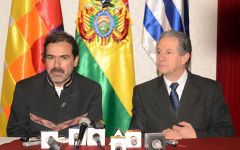 "We can't forget that Uruguay will be holding the chair of Mercosur next year and starting January 2013 a host of activities are going to be defined including a critical path for Bolivia to join the group as a full member", said Alurralde.
Conde said Uruguay will offer all its support for Bolivia's incorporation and facilitate the process, helping the country "not to lose any of the trade preferences it enjoys with other accords with third countries".
"It's a matter of not making Bolivia pay a price or lose those accords it has achieved in international trade talks because of its decision to join Mercosur. In this Uruguay will offer its support particularly in the negotiations process", added Conde.
Mercosur is made up of Argentina, Brazil, Uruguay, Paraguay, suspended because of the removal following political impeachment of Fernando Lugo from the presidency, and Venezuela admitted during the dictated absence of Paraguay.
Bolivia, Chile, Colombia, Peru and Ecuador are associate members while Venezuela joined officially last July 31st.
The two top officials also talked about Uruguay's port facilities for land-locked Bolivia which would enable La Paz to use them for storage "with no need to pay any tariffs when they are moved" to the Atlantic ocean.
Another issue was the construction of a pipeline to supply Bolivian natural gas to Paraguay and Uruguay. The two year old project, still in the blueprint, would extend from the wells in southern Bolivia to the Paraguayan capital Asuncion and Montevideo.
However Conde admitted that at the moment investing in a gas pipeline "does not justify the cost" if it will only supply Uruguay. But if some other system could be implemented including an export terminal, using the Paraguay-Parana rivers water-way, then "it would be a viable option".
"A gas pipeline for Uruguay only is not commercially viable, unless we have an export terminal making use of the ample port facilities in Montevideo. But we must first build a market for the export of Bolivian natural gas", said Conde.
Other issues addressed at the bilateral meeting included agriculture, defence, health, migration, trade, tourism and investments.