Saturday,
September
8th
2012
- 06:31 UTC
Merkel supports ECB debt-plan despite strong protests and threats in Germany
Chancellor Angela Merkel defended the European Central Bank on Friday after its plan to buy the debt of troubled Euro zone states stirred outrage in Germany and threats from some in her own party to try and block the scheme.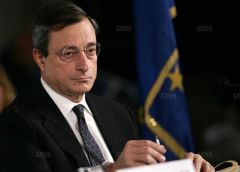 ECB President Mario Draghi unveiled plans on Thursday for potentially unlimited purchases of bonds of up to three years maturity issued by countries that request a European bailout and fulfil strict domestic policy conditions. The German central bank chief was the sole dissenting voice in the decision.
Merkel's centre-right coalition remains broadly behind her stance of backing help for vulnerable states such as Spain and Italy in return for tough reforms of their national finances.
But the outcry from a small but vocal Euro-sceptic minority among her parliamentary supporters and from influential conservative media underlined the political risks as the Euro crisis builds ahead of a general election due a year from now.
"The ECB is an independent and very strong institution," Merkel told reporters in Vienna, stressing that help would come with strings attached in her first public comments on the plans.
"Conditionality is a very important point. Control and help, or control and conditions, go hand in hand," she said.
But many German conservatives share the concern of Jens Weidmann, head of the Bundesbank, that the bond-buying plans violate a taboo on financing state deficits, remove pressure on governments to reform and will eventually stoke inflation.
"Blank cheque for the indebted states" was the headline of the top-selling Bild newspaper, a harsh, populist critic of the bailouts for Greece and other struggling euro zone nations, adding that the ECB move could render the euro "kaput".
An opinion poll released on Thursday before the bond-buying plan was announced showed nearly one German in two has little or no confidence in Draghi, who is Italian.
Several lawmakers vowed legal action to block the plans.
"We should consider making legal checks on whether the ECB has hugely overstepped its mandate. I am convinced that this is the case," Klaus-Peter Willsch, a leading Euro sceptic member of Merkel's Christian Democratic Union (CDU), told German radio.
"As the largest creditor nation in the whole game, Germany should have a right of veto," he added.
Weidmann was isolated in Thursday's meeting of the ECB Governing Council, where mighty Germany, with 82 million people and Europe's biggest economy, has just one vote, the same as tiny Malta.
In a critical statement, the Bundesbank said the decision was "tantamount to financing governments by printing banknotes".
Investors cheered the ECB rescue plan, with the Euro and stocks rising worldwide and the borrowing costs of Spain and Italy tumbling. But Die Welt, a conservative German daily, headlined the market reaction bitterly: "Financial markets cheer the death of the Bundesbank."
A poll on the website of Der Spiegel magazine showed 54 percent of Germans want the Constitutional Court to block the Euro zone's separate, permanent rescue fund next Wednesday when it announces a verdict that is nervously awaited by investors.