Brazil wants Paraguay back in Mercosur following "democracy compliance" test
Saturday, October 6th 2012 - 15:06 UTC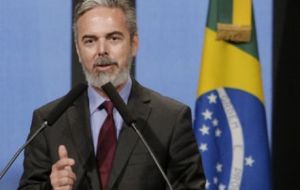 Brazilian Foreign minister Antonio Patriota said on Friday that Paraguay could resume membership of Mercosur and Unasur without the need to wait for presidential elections next April 2013 as long as "full compliance with democracy" can be verified.

"Paraguay can rejoin regional organizations once full compliance of democracy is verified by members of Mercosur and Unasur which means Paraguay will not need to wait until April 2013 presidential elections" said Patriota during a press conference in Rio do Janeiro next to his Uruguayan peer Luis Almagro who insisted that was the unanimous expectation from the group.

Patriota described as very positive the fact that Paraguay under President Federico Franco decided to confirm the electoral calendar which was established by his predecessor in the job Fernando Lugo, who was removed from office following political impeachment by the Senate last June which triggered the suspension of the country from Mercosur and Unasur.

Uruguayan minister Almagro said that "time helps with the healing process" of the Paraguayan situation in so far that the coming election represents a "solution" for the country and its reintegration to the Latinamerican community.

"We expect the electoral process to be clean, transparent, and clear and with guarantees for all involved particularly for those who have been removed from office, and more specifically President Lugo and left wing sectors. Hopefully through such an electoral process, clear and transparent Paraguay can reach the right solution", added Almagro.

He added that it was encouraging that mechanisms of international monitoring have been established for the coming elections precisely to promote and ensure the maximum guarantees to the electoral process.

Almagro underlined that Mercosur was going through its "best political moment" because of the shared position of country members in deciding the suspension of Paraguay and the incorporation of Venezuela as full member.

Patriota finally said that Mercosur had done its utmost to ensure that the suspension did not have "impacts" on the Paraguayan people or economy, which has been confirmed by an increase in the volume of trade between Paraguay and other full members during the last few months.