Tuesday,
October
9th
2012
- 01:38 UTC
Paraguay Senate plans to reject instruments used by Mercosur to sanction the country
The Paraguayan Senate will be addressing on Thursday the Ushuaia II Protocol and the Unasur Additional Protocol on democratic commitment, both instruments used by Mercosur and Unasur last June to have Paraguay suspended from the two organizations.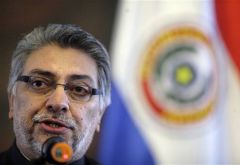 The Senate Thursday ordinary agenda decided to include a resolution draft on both protocols on initiative from one of the House members, but it will all depend on the Executive effectively remitting the "Montevideo Protocol on Democracy Commitment in Mercosur (Ushuaia II)".
The motion requests the Executive to remit to congress the Montevideo Protocol on democracy commitment so it can discuss the issue and although the formality is not binding it does carry a strong political pressure.
The Ushuaia II protocol was signed by former Paraguayan president Fernando Lugo on 20 December 2011, during the Montevideo Mercosur summit. However despite not having the ratification of the Paraguayan congress, the document was used by Mercosur members to sanction Paraguay after the removal of Lugo from office following an almost unanimous impeachment in the Senate.
Paraguayan president Federico Franco had shown support to rejecting the Ushuaia II text while Senator, but so far has not sent the protocol to Congress.
Likewise the Senate will be addressing a similar document: "Additional protocol to the Unasur constitutive treaty on democratic commitment", which apparently has a growing consensus, and majority, favourable to rejecting it. Only a few Senators described as 'left-wing' are planning to approve it.