Wednesday,
October
24th
2012
- 05:21 UTC
Consensus in Argentine congress to approve the teen suffrage bill
Argentine President Cristina Fernández said that giving youngsters between 16 and 18 years old the opportunity to vote gives democracy more sustainability because "the more people decide, better."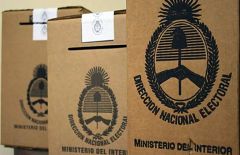 The president made the comments as she led a ceremony at the Bicentenary Museum to commemorate the passing of the Sáenz Peña law, which established the universal, compulsory and secret vote in Argentina.
The president of the Supreme Court, Ricardo Lorenzetti, who last week assured the judiciary branch "will not give in to the pressure of political or economic powers," attended the event.
Cristina Fernandez added that "the secret, compulsory vote undoubtedly was the stepping stone of all the conquests that came later. All of Argentina's military coup d'etats beginning in 1930 had complicity of the society as well."
"That is why the legacy of out great democratic leaders is that citizens choose in the polls who must represent us" she concluded.
In related news the Lower House of Congress cleared the teen suffrage bill for debate which will be discussed at the floor next week.
The Constitutional Affairs committee, headed by Diana Conti, and the Justice Committee, led by Jorge Yoma, were in charge of the analysis of the bill.
Opposition lawmakers from the Radical Party, Broad Progressive Front, Peronist Front and PRO bloc stated that they will support the Victory Front's bill.
The pro-government initiative establishes that the vote will be optional for those between 16 and 18 years old.
The Senate preliminary approved the bill with 52 votes in favour and only three against. After it was approved in general, the senators debated the bill article-by-article and accepted a few modifications set by the opposition.