Thursday,
November
1st
2012
- 23:07 UTC
Cristina Fernandez criticizes US court and promises all debt bonds will be paid in dollars
President Cristina Fernández returned to stage on Thursday and assured that Argentina's dollar-denominated debt bonds are to be "paid in dollars" whilst criticizing the New York judiciary for its latest ruling against Argentina, in a speech at the Government House.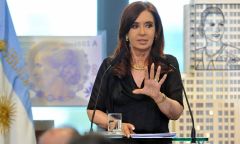 "It's a court that evidently does not know enough about its own legislation", the Head of State said, who considers that a recent ruling made on Friday against Argentina by a New York appeals court "puts 93% of creditors at risk because of the holdouts."
On Friday, a federal appeals court in New York ruled that Argentina violated bond provisions to treat all creditors equally when it made payments to creditors who accepted the swaps while refusing to pay the holdouts. It said Argentina must pay the holdouts every time it services the restructured bonds.
President Cristina Fernandez statement comes after two credit risk agencies, Standard & Poor's and Fitch Ratings which (following on the New York court ruling) lowered Argentina's long-term dollar-denominated debt. Argentina's country risk soared to 1.080 points on the announcement but then slid to 1.057 on Wednesday.
Furthermore, the President said that her government "is to honour its debts and take care of the funds belonging to its creditors that aren't Argentine, of which 93% are mostly from the United States and have accepted entering the debt swaps carried out in 2005 and 2010".
Likewise, the Head of State remembered that "a great deal for the 'vulture funds' would be to see us not meeting our payments, since they, who are very few people, have historically made a bucket full of money every time the Argentines went broke. That's why they want to see us broken. But I have bad news for them: We are going to pay and with dollars because we have them."
Argentina has restructured about 93% of the roughly 100 billion dollars it defaulted on a decade ago. Holdout creditors who rejected the swaps continue to press in courts worldwide for full repayment on the bonds and one of their latest moves was to impound the Argentine navy's flagship, ARA Libertad, which remains retained in Ghana.
"When I see what happened with the frigate ARA Libertad and what happened with the court ruling in New York, my advise to anyone wanting to restructure its debt avoid committing the mistake of going to New York", said the Argentine president.
Cristina Fernandez went on to criticize the "model of the nineties" which had the financial prevail over the rest of the economy and caused the crisis which developed countries are suffering. But "they now are changing the model, and applying what we have been doing since 2003 which is to privilege and accumulate in the domestic market, added value to our production and managing foreign trade, and for which we have been under attack since then".
"And I repeat, we are going to pay because we have sufficient reserves accumulated at the Central bank; what an example for the rest of the world, a country which doing absolutely the contrary to what we were told and advised to do by the multilateral organizations, we generated domestic demand, jobs, we pay our debts, we promote the domestic market".
Finally Cristina Fernandez linked the impound of the frigate Libertad in Ghana with the intention of "some local business people" of creating an adverse picture of the Argentine economy and openly accused the International Monetary Fund and the 'vulture funds' of an anti-Argentine campaign.
"When you display the whole facts and their repercussions one realises that the picture is clearly and anti-Argentina campaign", she emphasized.