Malvinas War families' commission honours benefactor of Argentine memorial in Falklands
Thursday, November 1st 2012 - 06:20 UTC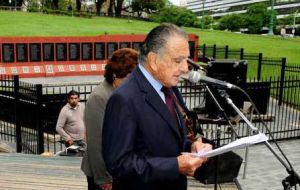 The Commission of Malvinas War Families paid homage to Argentine businessman Eduardo Eunerkian who has always been close to the organization and financed the construction of the Memorial at the Argentine cemetery in the Falkland Islands.

The mother of one of the soldiers buried at the Memorial in Darwin said the simple but moving event was an "act of homage and gratitude" to Mr. Eunerkian for two reasons.

"On the one hand because Eurnekian made his the pain and grief of so many families and this was in tune with the people; secondly because one must have a lot of courage and moral integrity to challenge those whom from very high positions, pretend a systematic oblivion of our sacrifices", said the mother who spoke in the name of those killed during the 1982 conflict.

The event took place at Plaza San Martín to remember all the Argentine combatants that lost their lives in the 74-day war, following the invasion of the Falklands by Argentine forces. The square in downtown Buenos Aires has a memorial to the Malvinas war dead with a wall engraved with the names of all those who never returned.

"I want to honour the fallen in the defence of our (Malvinas) Islands and very especially you, the next of kin, the families who have dedicated thirty years of your lives not only to honour them, but to help keep alive that flame of sovereignty", said Eurnekian.

Further on he stated the commemoration was not a homage to him, "it is an acknowledgement to all the fallen in the war, it is to them that the honouring must be addressed. That is the idea of a cenotaph with first names and sir names, so we can feel they are there".

Following the ceremony in a brief exchange with the press, Eunerkian said that the commitment to the Malvinas cause "is born automatically from the moment of conception".

He explained that as "an Argentine there is no need for any Argentine to ponder whether he has an interest or not for the Malvinas Islands. Secondly because when you have witnessed the circumstances of the struggle to recover them, it is evident one participates and gets emotive about the objective".

But, "about the methodology I will not comment, but of the objective there is no doubt that all Argentines yearn that one day the Malvinas are again Argentine".

Eduardo Eurnekian is head of Corporacion America, a powerful Argentine holding with interests in airports, public works, energy, agro business and services. One of his latest projects is the construction of a tunnel under the Andes to link the Atlantic with the Pacific oceans.