US public opinion pessimistic about a political agreement on the 'fiscal cliff'
Tuesday, November 13th 2012 - 23:00 UTC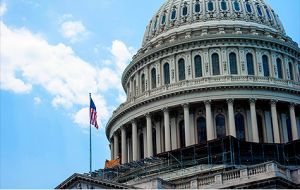 A majority of Americans expect the US to go over the fiscal cliff at the beginning of 2013 and would blame Republicans if that happened, according to a poll published Tuesday. On Friday Democrat and Republican congressional leaders are scheduled to begin discussions.

The survey by the Pew Research Centre and the Washington Post found 51% of those polled said they don't think President Barack Obama and Congress will be able to agree on a package of tax increases and spending cuts to replace the automatic reductions in government spending and the expiration of the Bush-era tax cuts scheduled for January first. Thirty-eight percent said they expected Obama and Congress to cut a deal.

If lawmakers fail to reach a deal, 53% said Republicans in Congress will bear responsibility, compared with 29% who said Obama will be at fault and 10% who chose both sides.

The fiscal cliff refers to a 607 billion dollars combination of automatic spending cuts and tax increases scheduled for 2013 that were enacted as part of an agreement to raise the federal debt limit.

More than two-thirds of those polled, 68% said the automatic spending cuts and tax increases would have a major effect on the economy, and 62% said it would be mostly negative. In addition, 44% of respondents said the fiscal cliff would have a significant impact on their personal financial situation and 60% of those said it would be mostly negative.

The survey of 1,000 adults was taken Nov. 8-11 and had a margin of error of plus or minus 3.7 percentage points.

The poll was made public a day before US lawmakers return to Washington on Wednesday with a seven-week deadline to reach an agreement on scheduled tax hikes and budget cuts.

The post-election battle over the fiscal cliff is shaping up as an extension of the political campaign with Democrats trying to rally support for raising taxes on the wealthy as part of any deal, and Republicans countering that such an approach would devastate "job creators" across the country.

President Barack Obama has been holding high-profile White House meetings with business, civic and labour leaders in advance of a summit set for Friday of top Republicans and Democrats in Congress.

Republican leaders, among them former vice presidential nominee Paul Ryan, have planned their own round of television appearances and news conferences to make their case.

The president and congressional Republicans have sounded conciliatory notes since the election on reaching a deal. But it was clear on Monday that the two sides were still far apart, setting up prolonged debate that could keep investors on edge for the rest of the year.

Obama won re-election last week but Congress remains divided, with Democrats controlling the Senate and Republicans running the House of Representatives.