Mexico ready to drop WTO complaint after reaching auto accord with Argentina
Saturday, December 15th 2012 - 06:31 UTC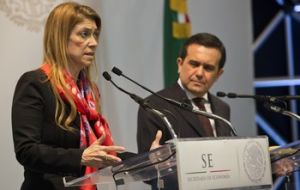 Mexico said it would drop a complaint over import curbs against Argentina before the World Trade Organization after the two countries signed a more limited automobile trade pact.

Mexican economy minister Ildefonso Guajardo said the country would withdraw its complaint over Argentina's trade restrictions, which also have drawn challenges from the European Union, the United States and Japan.

"We have instructed our ambassador before the WTO to withdraw the request from a dispute panel," Guajardo said in Mexico City. "We also communicated this to the countries that had accompanied us in the process."

The WTO dispute centres on import licensing rules, which critics say amount to a blanket restriction on imports, and is a separate issue from the countries' recent spat over automobiles.

The auto trade deal announced on Friday cuts the number of cars that Mexico can ship duty-free to Argentina. Under the new three-year accord, Argentina will buy up to 600 million dollars in Mexican cars tariff-free per year.

The new deal "reduces the amount of cars imported from Mexico by about 33%, and should restart the flow of trade between the two countries" said Argentina Industry Minister Debora Giorgi.

Argentina pulled out of a previous auto trade pact with Mexico in June after Brazil, the region's biggest economy, negotiated a cut the number of vehicles it was importing from Mexico. Global automakers have ramped up operations in Mexico in recent years, lured by lower costs.

Argentina had served notice in March that it planned to seek more favourable terms in the pact with Mexico, known as ACE-55, aiming to follow in the footsteps of Brazil.