Colombia wants to step up peace negotiations but FARC dragging their feet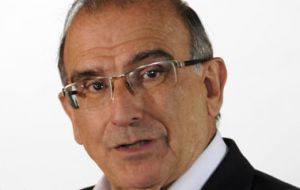 Representatives of the Colombian government and Marxist-led FARC rebels reconvened in Havana Monday for a third round of peace talks that the administration of President Juan Manuel Santos says need to start moving faster.

The two sides began negotiating an end to their bloody, half-century-old conflict on November 19, but so far have only agreed on procedural issues and are returning from a three-week break over the holidays.

President Santos says he wants the process wrapped up by next November, but the rebels have said reaching a peace accord cannot be rushed.

They are trying to end a conflict that began in 1964 with the founding of the FARC, or Revolutionary Armed Forces of Colombia, and in which an estimated 600.000 people have died and millions more have been displaced. From an early Marxist orientation umbrella FARC has been moving deep into the narcotics business and protection of drug lords which helps to finance the 8 to 9.000 men in arms it is estimated to have.

Upon arrival at the talks on Monday, lead government negotiator Humberto de la Calle called for more speed, saying the talks must move ahead at a "new pace" to maintain the support of the Colombian people.

"The important thing is that during these rounds the pace changes, that we enter with new energy this year so that here in Havana we reach agreement rapidly," he told reporters outside the convention centre where the negotiations are being held.

"The people want to see an efficient, dignified, rapid (and) serious process," said de la Calle, a former vice president of Colombia.

With Norway and Cuba acting as guarantors, the government and FARC are following an agenda addressing the basic issues of the conflict, among them rural development, the FARC involvement in the illicit drug trade, the political and legal future of the group and restitution for the war's victim.

FARC also announced that their unilateral ceasefire will be suspended on 20 January, as initially planned. Some fear fresh Farc attacks in Colombia may hamper the negotiations.

But the rebels' chief negotiator, Ivan Marquez, has ruled out an extension of the ceasefire. "The unilateral ceasefire ends on January 20" Marquez told AP news agency. "That's it."

The Colombian government refused to cease military operations during the negotiations, arguing that rebels would use the opportunity to rearm, as had happened in several other previous frustrated peace talks..

Nevertheless there have been clashes since the FARC announced the ceasefire in late November.