UK considers "highly unlikely" Argentine invasion of the Falklands but is taking no chances
Tuesday, January 15th 2013 - 02:57 UTC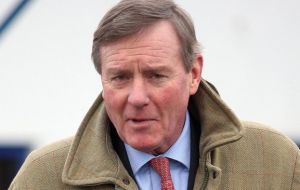 The British government considers 'highly unlikely' Argentina will attempt to invade the Falkland Islands, according to Defense Minister Andrew Robathan. But the UK is prepared for any outside contingency that might want to interfere with the March referendum on the Falklands' future.

Robathan who on Monday was at Parliament explained the Argentine military was not the same power as it was under General Leopoldo Galtieri, when the Falklands were invaded in April 1982.

"I think it is highly unlikely that the Argentines will invade the Falkland Islands, not least because there is a clause in their constitution I understand which specifically excludes invading the Falkland Islands by force".

However Defense Minister Robathan emphasized that the British government "retained the ability" to re-enforce its military presence in the Falklands, ahead of a referendum on the Islands' status and future scheduled for March 10/11, basically "if they wish to remain under British rule"

He added: "we all very much hope, and indeed expect, that the referendum will enforce the relationship between Britain and the Falkland islands. This is of course is a Falkland Islands' initiative".

Robathan revealed that the British have four Typhoon fighters, an infantry company, a network of land/air missiles, a South Atlantic patrol vessel, a Falklands patrol permanently stationed in the Islands, a couple of auxiliary vessels and 'probably' a submarine on global patrol.

But he repeated it was highly unlikely that such an action takes place because since the days of Galtieri there has been "a definitive gap between elected authorities and the military and thus it does not seem, although you must never the complacent, that the Argentine Armed Forces are well equipped for such an action.

Over the weekend it was published in the London media that UK defence chiefs have drawn up new contingency plans designed to prevent hostile action by Argentina towards the Falkland Islands.

"A series of military options are being actively considered as the war of words over the Islands intensifies", The Telegraph published on its Sunday's edition.

It is understood that additional troops, another warship and extra RAF Typhoon combat aircraft could be dispatched to the region ahead of the March referendum on the Falklands' future.

The Falklands' elected government is hopeful that the results of the referendum will finally convince Argentina to drop its claims and respect the Islanders right to self determination.