Argentine state workers union challenges official inflation stats with own index
Monday, January 21st 2013 - 15:02 UTC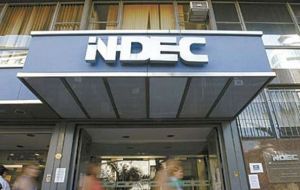 The insistence of the Argentine government with its official inflation stats, questioned by the IMF and other sectors of the country, will also be challenged by the powerful state workers union, ATE, which will publish a report on prices in Argentina and the basic needs of an average family.
ATE anticipated figures from a report to be published later this week, in which it suggests a minimum income of 7.000 Pesos (1.400 dollars at the official rate and 935 in the parallel market) for the average family of "two parents and two children" to afford basic goods, which includes food, and expenses including clothes, rent and bills.
The report will be released a week after the INDEC national statistics bureau published its annual report on the preceding year's inflation, in which it suggested a rate of 10.8% for 2012, less than half the rate estimated by private consulting agencies.
The report was compiled by private research institutions, after several unions expressed dissatisfaction at what they consider to be the state failing to meet its obligation of calculating the basic goods index as a reference for minimum wage. INDEC has been criticized for its divergence from the general consensus on economic statistics including the bureau's estimate that a family of four can buy enough food with 719 Pesos (145 and 96 US dollars) per month.
Another report was commissioned to the Rosario National University's School of Statistics by the edible oil workers' union, which set a minimum income of 7.646 Pesos (1.540 and 1.019 US dollars) to afford the basic goods index in November.
ATE, which has denounced the manipulation of official statistics, claims its figures are "minimum values" that are "adjusted according to real consumption," admitting that they do not comprise an "optimal basket," but "no worker should earn less".
Likewise representatives from Hugo Moyano's anti-government CGT umbrella union grouping reaffirmed that their organization will demand a "25%" general wage hike at the imminent wage negotiations, while the vice-president of the Argentine Industrial Union (UIA) employers' grouping, Daniel Funes de Rioja, avoided mentioning specific percentages. The latter also expressed his opposition to the rumoured desire of unions for repeated wage negotiations throughout the year.
The press officer for Antonio Caló's government-aligned CGT umbrella union grouping, Eduardo Daer, also denied an intention to promote more frequent wage negotiations, which has been supported by unions seeking a sharp adjustment of salaries according to constant inflation, although there was unanimous agreement with Funes de Rioja on the priority of seeking that the government of President Cristina Fernandez raise the tax floor for income tax "before the beginning of the cycle of the majority of wage negotiations in March."
With regard to increasing the frequency of wage negotiations, Funes de Rioja insisted such a measure would be unnecessary because "all negotiations are signed with a clause ensuring re-discussion if variables are exceeded."
In this context, Argentine Labour Minister Carlos Tomada is expected to meet with representatives of the bank employees' union, La Bancaria, and the employers' chambers to have them inform workers on the "content, application and duration of the pre-wage negotiation agreement" planned for January 24, which consists of the payment of 1.444 Pesos between January and March and the one-off tax-free payment of 770 Pesos.
However Juan Carlos Schmid, a director of Moyano's CGT had a different point of view asserting "each negotiation table has a unique dynamic, each union and (employer) chamber discuss production, the economic situation and the affiliation of the workers." The Dredging workers' union leader added that wage negotiations ceased to be "free" with the imposition of an "external element," and that any wage hikes below 25% would be "unacceptable."