Argentina says Falklands' issue "smells too much like petroleum
Thursday, February 7th 2013 - 21:44 UTC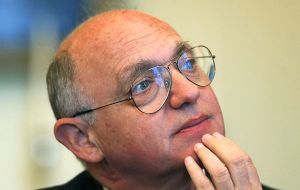 Foreign Minister Héctor Timerman said on Thursday that the British government's position on the Falklands/Malvinas Islands issue "smells too much like petroleum", revealing that UK's biggest interest in keeping the invaded archipelago is due to the potential oil findings.

Comments came after Timerman trip to London where he interviewed with British MPs, and a group comprised by representatives of 18 European countries that supports Argentina's sovereignty claims on the Falklands, South Georgia and Sandwich islands.

In conversations with an Argentine radio Timerman insisted that Argentina "has never requested the UK with any conditions in order to negotiate the archipelago's sovereignty"

Likewise, Timerman bashed UK Primer Minister David Cameron for considering the latter "uses the British citizens that live in Malvinas to justify his intransigence".

Likewise he added that "should the United Kingdom accept the United Nation resolutions over Malvinas, it won't take long to see the islands being administrated by Argentina once again."

"The UN was clear when indicating, in numerous times, that both nations should discuss the matter immediately. Once the UK decides to sit down and talk, it won't take that long to find a final solution".

During his lobbying in London, among many other statements, Timerman anticipated that the Falklands would be under Argentine control within twenty years.

Further on he praised the success of the London incursion, despite not having been able to hold bilateral talks with Foreign Secretary William Hague: "because my visit to London, together with Senator Daniel Filmus and Deputy Guillermo Carmona had ample coverage in all the British media as had not happened in decades".

On Wednesday Timerman also warned oil companies working off the Falkland Islands that Argentina will continue taking legal actions because they are 'stealing our resources'.

"We will continue to seek legal action against there hydrocarbon companies, they are stealing the natural resources of Argentina", he said.