Thursday,
February
7th
2013
- 19:22 UTC
ECB leaves rates unchanged, but appreciation of the Euro turns into controversy
European Central Bank President Mario Draghi admitted on Thursday policy makers are concerned that the Euro strength will hamper their efforts to pull the economy out of recession and although the exchange rate is not a policy target, he confirmed "it is important for growth and price stability".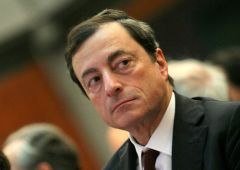 "We want to see if the appreciation is sustained and if it alters our assessment of the risks to price stability" said Draghi at a press conference in Frankfurt after the ECB left the benchmark rate at a record low of 0.75%. He added that the decision not to alter rates had indeed been "unanimous".
However Draghi also said that the appreciation of the Euro is "in a sense a sign of return of confidence in the Euro", adding that by and large "both the nominal and real effective exchange rates are on ... and about their long term averages," he said.
Several French officials including President Francois Hollande have warned that while latest data show the 17-nation Euro economy is starting to stabilize after the sovereign debt crisis drove it into recession, the Euro gains could stymie a recovery before it has begun by curbing exports and pushing inflation too low.
Paymaster Germany's position has been that from an historical point of view, the Euro is currently not overvalued and that the recent rise is a counter-reaction to the massive depreciation in the wake of the Euro zone crisis.
Following on Dragui's statements the Euro fell over a cent to the US dollars. The Euro has reached a 14-month high of 1.3711 this month and a three-year high against the Yen.
The ECB, which aims to keep inflation just below 2%, currently forecasts the rate of annual consumer-price gains will drop to 1.4% next year from 1.6% this year. A stronger Euro damps prices on imported goods.
Draghi said economic weakness will prevail only "in the early part" of this year and "later in 2013, economic activity should gradually recover, supported by our accommodative policy stance." Still, risks to the economic outlook remain on the downside, he said.
The Euro has climbed 11% on a trade-weighted basis since Draghi pledged on July 26 to do whatever is needed to preserve Europe's monetary union, a comment that eased the turmoil raging through the region's bond markets.
Fuelling the Euro rally, banks have started paying back the ECB emergency three-year loans early, shrinking its balance sheet just as the Federal Reserve and Bank of Japan expanded theirs. That's prompted talk of a "currency war" between central banks trying to boost growth through lower exchange rates.
Draghi dismissed that speculation and said the Euro value broadly reflects economic fundamentals. Still, he said if monetary policies produced "consequences on the exchange rate that do not reflect the G-20 consensus, we will have to discuss this."
Central bankers and finance ministers from the Group of 20 nations convene in Moscow next week.
In addition to bringing down Euro zone borrowing costs to their current record low, the ECB has pumped more than 1.0 trillion Euros (1.3 trillion dollars) into the banking system via so-called LTROs to avert a disastrous credit crunch.