Four Royal Navy Type 22 decommissioned frigates for sale in Southampton
Thursday, February 7th 2013 - 18:12 UTC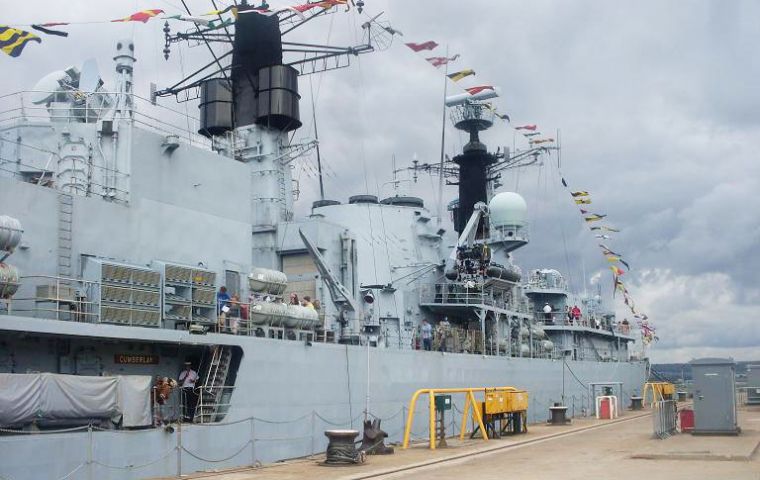 The Disposal Services Authority (DSA) of the British Ministry of Defence has invited offers for the sale of four decommissioned Royal Navy Type 22 frigates. The frigates HMS Chatham, HMS Campbeltown, HMS Cumberland and HMS Cornwall all went up for the bidding process on January 23, with viewings available this month and next.

The DSA have an intention to award at least one vessel to a UK ship recycler, according to NavalToday.com, who also say the reason one vessel will be recycled is to "secure detailed knowledge of the UK's capacity to recycle vessels".

The authority also welcomes bids for the sinking of the vessels so that they become artificial reefs. All four of the frigates are currently moored in an area for decommissioned ships at Portsmouth Harbour.

The BBC reported that a MoD spokesman said: "It will be for organisations bidding ... to submit proposals on how they plan to use the ships. However, the MoD's advertisement does state that bids will be accepted to use the ships in a non-military capacity, sinking for use as an artificial reef, or for recycling."

In 2011when the HMS Ark Royal was up for sale, a Gibraltar based business man sent his project manager and his architect to view the vessel, in a bid to see if it would be suitable as a tourist attraction in Gibraltar, they concluded that it would not be.

In related news the Royal Air Force Chief of the Air Staff, Air Chief Marshal Sir Stephen Dalton and his French Air Force counterpart Chef d'état-major de l'Armée de l'air (CEMAA), Général d'Armée Aérienne Denis Mercier renewed this week the annual agreement to advance military cooperation between their respective air forces.

The agreement known as the Directive of Objectives is a direct result of the Security and Defence Cooperation Treaty signed in November 2010 by the governments of the UK and the French Republic. The aim of the Directive, which reflects the goals of the treaty, is to better enable UK and French air forces to operate together, maximising combined capabilities and obtain greater value for money in Defence expenditure.

In recent weeks the French air force has made use of Gibraltar's airport facilities for exercises.

Air Chief Marshal Sir Stephen Dalton who countersigned the Directive of Objectives at the French Air Force Headquarters in Paris, said: "As permanent members of the United Nations Security Council and as NATO allies the United Kingdom and France share many common interests and responsibilities.

Général d'Armée Aérienne Denis Mercier commented on the positive relationship between the two air forces: "French and British aviators have been engaged together on operational theatres for almost a century. Today, the re-enforcement of their cooperation opens formidable opportunities to overcome the challenges of tomorrow".