Financial Times gets it wrong on Falklands and Gibraltar 'trilateral' dialogue
Saturday, February 9th 2013 - 08:38 UTC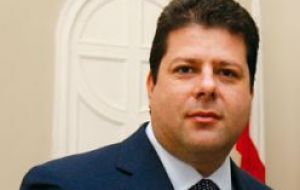 Chief Minister Fabian Picardo this week wrote to the Financial Times after the respected financial daily made a glaring error about Gibraltar in an editorial column centred on Argentina.

The newspaper stated wrongly that the UK did not insist that "Gibraltar islanders" attend any talks with the Spanish about the future of the Rock.

"Successive British Foreign Secretaries have insisted that they will not engage bilaterally with Spain on Gibraltar issues, referring their counterparts to the Trilateral Process for Dialogue in which the UK, Spain and Gibraltar have agreed to discuss all matters of mutual interest except sovereignty," Mr Picardo wrote in the letter, which was published this week.

"The UK, Gibraltar and the PSOE (opposition Socialist party) in Spain have repeatedly stated strong commitment to the continuation of that forum for dialogue despite the ruling PP's 'Timerman-like' insistence that Gibraltar be excluded from such talks."

"In addition, the UK has long agreed that it will not engage in talks about Gibraltar's sovereignty with Spain unless the people of Gibraltar wish such talks to be commenced."

"Rightly, the UK is therefore clearly on record setting out that it is not going to engage bilaterally with Spain on the future of our homeland."

The FT article raised Gibraltar in its analysis on Argentina's troubled relations with the UK. Argentine foreign minister Héctor Timerman refused to meet with his British counterpart after William Hague insisted that the Falklands be represented if their discussion touched on the future of the Islands.

"To be fair, the UK does not insist that Gibraltar islanders attend talks with the Spanish," the FT said. "Then again, Spain has not elevated Gibraltar to the centre point of its foreign policy."

The FT editorial also prompted another reply from one Gavan Sellers in London.

"In your editorial on Argentine pride, you point out that the UK does not insist that "Gibraltar islanders" attend talks with the Spanish," Mr Sellers wrote. "Could part of the reason for this approach be that none could be found".