Cruise lifeboat safety drill ends in tragedy killing five crew members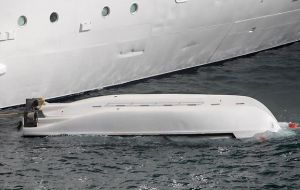 Five people are dead following a lifeboat safety drill aboard a cruise vessel in the Canary Islands that turned in to a tragedy. The lifeboat fell about 20 meters when a cable snapped, trapping crew members beneath it and killing five of them
According to the Miami Herald the accident occurred on Sunday February 10 and involved the British-operated Thomson Majesty cruise ship.
There were approximately 1,400 passengers on board during the time of the accident but none of them were hurt. Three other crew members were injured but they are all recovering according to La Palma port authorities.
The vessel docked at the island's port of Santa Cruz Sunday morning, after arriving from the neighboring island of Las Palmas de Gran Canaria. It was due to depart at 3 p.m. for Funchal on the mid-Atlantic island of Madeira with 1,498 passengers and 594 crew aboard, the authority said.
At 10:30 a.m. a drill consisting of lowering a lifeboat with crew members aboard began. About an hour later, when the lifeboat was being hoisted back up to the deck, a cable holding it snapped and a hook holding the lifeboat on a second cable gave way, sending the lifeboat plunging into the port upside down, the authority said in a statement.
An alarm was sounded and port authorities were alerted. The captain of the cruise ship called for the divers who arrived at the capsized lifeboat.
The voyage has been delayed until Monday. The boat is expected to arrive in Portugal a day later than previously scheduled.
"Three of the dead were Indonesian men, one was a Filipino man and another was a man from Ghana, authorities said. The injured were all men, two aged 30 and another, a Greek national, was 32. They were taken by ambulance to the general hospital of La Palma," Miami Herald reported.
Local authorities of La Palma canceled Carnival festivities that had been due to be held on the island Sunday, but said they would go ahead as planned on Mon