Quick rescue operation for 'Carnival Triumph' adrift in the Gulf of Mexico
Monday, February 11th 2013 - 22:10 UTC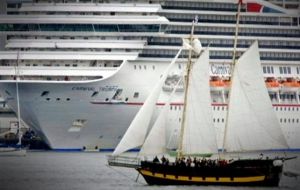 Carnival cruise ship in the Gulf of Mexico with more than 4,200 passengers and crew will be towed to port after a weekend engine fire left it dead in the water, a cruise line official announced. The U.S. Coast Guard cutter Vigorous arrived early Monday to aid the stranded ship. The first of two tugboats is expected on the scene by midday, said Greg Magee, commander of the Vigorous.
The Carnival Triumph was about 150 miles off the coast of Mexico's Yucatan Peninsula, heading back to Galveston, Texas, when the fire broke out in an engine room Sunday morning, according to Carnival Cruise Lines. The ship's automatic fire extinguishing system kicked in and soon contained the blaze, and no injuries were reported, Carnival said Monday.
The fire still left the ship with 3,143 passengers and 1,086 crew members adrift without propulsion, the cruise line said.
The two tugboats will tow the ship to Progreso, Mexico, the closest port to the ship's location, Carnival said. The ship is expected to arrive in Mexico late Wednesday, and passengers will be flown back to the US on a chartered aircraft.
The Coast Guard said the ship is drifting about 2 mph to the northeast. "It's in deep water and not near any hazards to navigation," Magee said.
The Coast Guard does not yet have any information on the cause of the fire. No medical emergencies have been reported. One passenger who requires routine medical treatment was transferred to another Carnival cruise ship Monday afternoon to get to shore more quickly, Magee said.
Emergency generator power has been in use since the fire, Carnival said, and technical teams are "gradually restoring auxiliary power to operate some basic hotel functions."
Toilets are operational in parts of the ship, and some elevators are working, according to the cruise line. Hot coffee and limited hot food service are available to passengers.
"Guests have been supplied with food and refreshments throughout yesterday and this morning and the ship has supplies on board to last until the vessel returns to port," Carnival said.
Food and beverages were transferred Sunday night onto the Triumph from a sister ship, the Carnival Elation. Another ship, the Carnival Legend, is en route to bring additional food and water to the Triumph on Monday afternoon, Carnival said.
"Right now we believe everything here is safe and secure," the Coast Guard's Magee said. "The communication with the master (of the cruise ship) has been open and honest."
After being towed to Progreso, those aboard the Carnival Triumph will be flown back to the United States at no cost to them, the cruise line said. They will also get a full refund, credit that can be used toward a future trip and reimbursement for all expenses, except casino and gift shop purchases, for their current trip.