Punta Arenas cruise business picking up; 62.000 visitors expected this season
Tuesday, February 12th 2013 - 18:00 UTC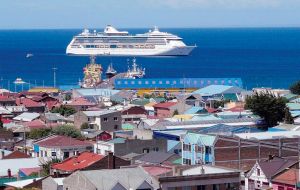 The cruise business has been picking up for the last three seasons and so far including January an estimated 31.000 visitors landed in Punta Arenas, extreme south of Chile, which represents a 7% increase over the previous season and 10% for international cruises, said the head of the Austral Port Authority, Ignacio Covacevich.

"In January this year we reached 31.000 visitors which is 7% more that in 2011/12 and so far because of bad weather we had one call cancelled, but two non scheduled turned up, so it's steady and has been growing sustainedly for the last three seasons", pointed out Covacevich who anticipated that the last cruise of the season is expected March 12.

Covacevich said that several intelligent government measures have helped with the hike in business, basically lowering the cost of port duties, services, piloting along the fiords, allowing casinos on board to operate in Chilean waters, plus the promotion campaigns.

"As port authority we are important in the first leg for visitors, which is landing, but from the port rails outwards you must have a good promotion of places to visit, abundant information, well instructed guides and an overall pleasant and honest attitude", said Covacevich who estimated the current season will end with over 62.000 cruise visitors landing in Punta Arenas.

The local branch of Senatur (Chile's Tourism Office), according to Covacevich is doing its job: well prepared staff, several languages, plenty of maps and information on guided tours. However cruise visitors are not always satisfied because of the distances to some of the places that most attract them.

In effect according to Senatur, visitors have a preference for the Milodon Cave, Torres del Paine national park, rookeries, whales' sighting plus the local city tours, museums, money exchange houses and restaurants. Bus since at the most they spend one day in Punta Arenas, weather permitting, there is not enough time to travel to the parks and sighting marine life.

"Americans, Germans, English, Brazilians and Argentines are the most visitors we receive when the large international cruises call in Punta Arenas", concluded the local port authority chief.