We are a People and We do exist
Wednesday, February 13th 2013 - 20:45 UTC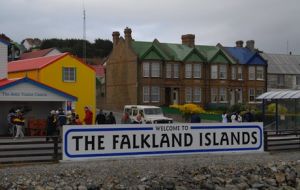 Opinion by Robin Goodwin -
As a Falkland Islander, I do wonder where Alicia Castro the Argentine Ambassador to the United Kingdom was educated. To not recognize that Falkland Islanders exist is plain ignorance on the part of the Argentine Government. Particularly that she is based in England.
Falkland Islanders have been living on the Islands since 1833 and now have some nine generations of descendants living there. Some of those previous ancestors are indeed of Argentine/Spanish Origin who also have many living generations among the community.
To refuse to recognize our People is also to say that Argentina does not recognize descendants of her own Country. These people are born as Falkland Islanders just as many other nationalities that chose to settle on these Islands have been doing. Yet the thinking in Argentina is that we are all descendants of Great Britain. This could not be further from the truth. We are a people who originated from many Countries of the World. It just happens that the Falkland Islands are a part of Great Britain just as for Argument sake St Helena is also. Yet the vast majority of the St Helenian people originated from Africa do not make them Africans.
The hard fact of life is that you inherit your birth right in the place you were born.
Something else worth noting is that Argentina has several Falkland Islanders living among them who chose to move to that Country and have been accepted by the president Cristina Fernandez who in spite of accepting these individuals has oddly enough told the world that Falkland Islanders do not exist.
Argentina does not want us to have a referendum because the results and decision of the people will be recorded by every Country of the world and Argentina does not want the Falkland Islanders to tell the world how it really is.
Our two Countries have completely different Histories whereas the Falkland Islands had no indigenous people living on them when first settled by white settlers. By contrast the Spanish stole land from the indigenous people by murdering them to create what we all know today as Argentina.
The people of the Falkland Islands have always whished to remain British by choice. The referendum will tell the world how the Islanders want to lead their lives and no Interference from Argentina will stop them.

Robin Goodwin
Fifth Generation Islander