Bolivian president Morales confirms Chavez suffering from relapses
Monday, March 4th 2013 - 06:15 UTC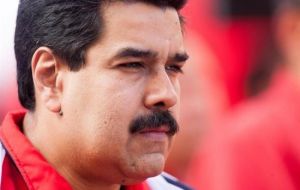 Bolivian president, Evo Morales, says his Venezuelan counterpart, Hugo Rafael Chávez Frías, is in stable conditions but still suffering from relapses in his recovery from a fourth round of surgery for cancer. Morales couldn't meet with Chavez but said doctors and relatives of Chávez informed him about his current condition.
"He's in good spirits and fighting for his life, then he'll fight for his land: Venezuela" Morales said in a press conference held in Cochabamba, Bolivia.
Chávez, who's convalescing in seclusion at a Caracas military hospital, is suffering from complications since coming back to Venezuela after undergoing a fourth round of surgery for cancer in Cuba, where he stayed for over two months.
Morales statement comes amid demands from the Venezuelan opposition that the government in Caracas tell the truth about the president's health.
On Friday Vice president Nicolas Maduro revealed that Chavez has been undergoing "tougher" new treatment for cancer including chemotherapy. Speaking after a Catholic Mass to pray for Chavez's health, Maduro described how the populist president had personally given the order to leave Cuba in mid-February, two months after his latest cancer surgery there.
Chavez was first diagnosed with cancer in the pelvic region in June 2011, but the government has never disclosed the exact nature, location and severity of the cancer.
However two well informed Venezuelan nationals, a journalist and a doctor agree that the Cuban doctors looking after Chavez got the diagnosis wrong from the beginning since they started treating him for a colon cancer.
Bocaranda a very much respected journalist, even by the members of the Chavez government, and Dr Jose Rafael Marquina, a physician living in the US who all along has been very well informed on the case coincided that the Venezuelan leader was wrongly diagnosed back in 2011. This does not mean Chavez would have overcome his health condition but would have certainly not been exposed to so much pain and suffering.