Monday,
March
18th
2013
- 07:38 UTC
"Britain, Argentina need to find a political solution", says Gulf News from UAE
The following editorial on the Falkland Islands issue was published by the United Arab Emirates Gulf News.
The referendum by the 2,500 inhabitants of the British-administered Falkland Islands has not contributed to finding a political solution to the dispute between Britain and Argentina that has run for centuries.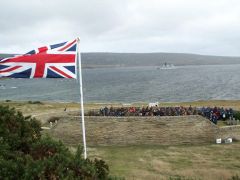 The British government needs to indicate to its obstreperous colonialist that they do not have a blank cheque on British policy, but it also needs to make clear to the Argentines that there has been nothing illegal in the British presence in the Falklands since 1690.
But to respond to an approach to find a political solution, the Argentines will need to reduce their nationalistic rhetoric which their current president may find hard to do.
The current standoff is untenable in the long term and Britain is wrong to allow the minute population of 2,500 to dominate its foreign policy in the South Atlantic and Latin America.
It has better things to do than defend 2,500 people, and it should remember that ever since the late 1700s, Britain has enjoyed a close relationship with Argentina, leading to more than 100,000 Argentines of British descent living happily in Argentina.