Thursday,
March
21st
2013
- 02:28 UTC
Cruise vessel calls increased 9.3% so far this season in Uruguay
The number of cruise-vessel calls in Uruguayan ports has increased 9.3% so far in this 2012/13 season with an influx of 20 million dollars for the local economy revealed Deputy minister of Tourism Antonio Carambula during a primary evaluation of business vis-à-vis the 2011/12 results.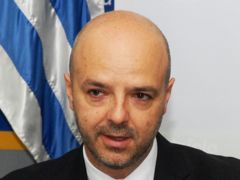 "The number of cruise vessels calling in Montevideo and Punta del Este has increased 9.3% so far compared to the last season, which also means an increase in the number of visitors. We still have a full month ahead", said Carambula.
"There is an indirect return for the Uruguayan economy linked to the spending by visitors which our experts estimate to be above 20 million dollars" pointed out the official who described it as "a satisfactory partial assessment of the current 2012/13 season".
Carambula also indicated that as Uruguay consolidates as a safe and secure destination "there are a growing number of cruise vessels that take supplies in our ports".
He also underlined that the cruise business has a 'multiplying effect' mainly for out of region visitors, since many of those who leave Uruguay after enjoying their stay become "ambassadors of the country overseas".
"Stats are indicating that a percentage of them return but in a more traditional form of tourism, and even look for investment opportunities for a second residence"
Carambula also revealed that during the recent world cruise industry Seatrade 2013 conference in Miami, the heads of the cruise companies, many of them operating in Punta del Este and Montevideo expressed the satisfaction of the visitors landing in Uruguay.
The Deputy Tourism minister was in Miami with a numerous delegation which also included the Minister of Public Works and Transport and the head of the Tourism office from Maldonado (Punta del Este).
"Officials from Costa Cruises, Royal Caribbean and MSC told us they were satisfied with Uruguay services and that Punta del Este has become one of the great attractions of South Atlantic cruises" said Carambula.
For the next season (2013/14) the cruise companies that operate in Uruguay have plans to keep the number of vessel calls, "so we can expect a similar number of visitors to the current season".
Likewise "Costa Cruises has decided to have Montevideo (and the airport of Carrasco) as a transfer point for their passengers, which undoubtedly means more activity for our operators" said Carambula.
Finally the tourism deputy minister said that some cruise companies are considering calling in Colonia, at the mouth of the rivers Parana and Uruguay, a colonial city founded in 1680 by the Portuguese half an hour away from Buenos Aires. However because of draft limitations it would only be possible for the smaller cruise vessels.