China reports further cases of A (H7N9) flu; scientists confirm mutation of the virus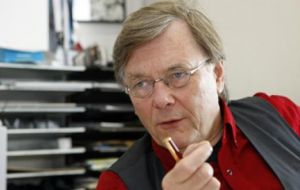 As China's Health and Family Planning Commission notified the World Health Organization (WHO) of an additional four cases of human infection with influenza A(H7N9), scientists revealed that the genetic sequence data on the deadly strain of bird flu previously unknown in people show the virus has already acquired some mutations that might make it more likely to cause a human pandemic.

But there is no evidence so far that the H7N9 flu which has infected nine people in China, killing three is spreading from person to person, and there is still a chance it might peter out and never fully mutate into a human form of flu.

Just days after authorities in China announced they had identified cases of H7N9, flu experts in laboratories across the world are picking through the DNA sequence data of samples isolated from the patients to assess its pandemic potential.

One of the world's top flu experts, Ab Osterhaus, who is based at the Erasmus Medical Centre in The Netherlands, says the sequences show some genetic mutations that should put authorities on alert and entail increased surveillance in animals and humans.

"The virus has to a certain extent already adapted to mammalian species and to humans, so from that point of view it's worrisome," he said in a telephone interview. "Really we should keep a very close eye on this."

China's National Health and Family Planning Commission confirmed on Sunday that three people had been infected with the new H7N9 flu, with two deaths of men in Shanghai aged 87 and 27 who fell sick in late February.

The WHO says the cases of H7N9 are "of concern" because they are the first in humans.

"That makes it a unique event, which the World Health Organization is taking seriously," the Geneva-based United Nations health agency said on Wednesday.

Other strains of bird flu, such as H5N1, have been circulating for many years and can be transmitted from bird to bird and bird to human, but not from human to human.

So far, this lack of human-to-human transmission also appears to be a feature of the H7N9 strain.

WHO praised the Chinese government, saying it was responding to the situation with various important measures such as enhanced surveillance, detailed case management and treatment, tracing contacts of all those known to have been infected so far, and training healthcare professionals.

Experts said the fact that H7N9 had been identified and swiftly reported, and that genetic sequence data was already available for researchers around the world to analyze, was a sign of how things have changed.

In 2003, China initially tried to cover up an epidemic of Severe Acute Respiratory Syndrome, which emerged in China and killed about a tenth of the 8.000 people it infected worldwide.