Over half of Uruguayans (55%) have 'little' or 'no' interest in politics says poll
Friday, September 20th 2013 - 07:42 UTC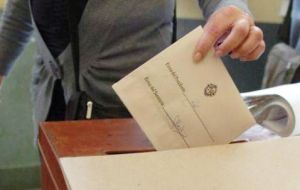 A majority of Uruguayans have little or no interest in politics according and most of them are young people, poorly educated and those who consider themselves as 'centre or centre right', according to the results of a public opinion poll released on Thursday.

On the opposite end 18% of interviews reported a high interest in politics and 26% a relative interest. The profile of the very interested group belongs to people self defined as 'leftist' with secondary or tertiary education and older than 45.

Regarding age, the criteria prevailing in the results of the opinion poll is that to less age, less interest. In effect 61% of those under 29 years of age have little or no interest in politics (43% and 18%), while 25% express a relative interest and 13% 'much interest'.

But for those over 60, half, 50% admit an interest in politics. For those between 30 and 44, a 44% admit an interest in politics and for the 45 to 59 bracket, the percentage climbs to 47%.

Regarding education, the better educated have a greater interest in politics. 25% of those who have finished primary school admit an interest, but the figure climbs to 60% when those polled have college or university formation. But it drops to 34% for those who consider themselves of centre and to 40% for those who admit being of the right.

At the same time 50% of those who support with their votes the Uruguayan ruling coalition: 40% from the senior opposition, National party and 33% from junior opposition Colorado party, admit interest in politics.

The poll interviewed 1004 people over 17 in the time period extending from 15 to 25 August.